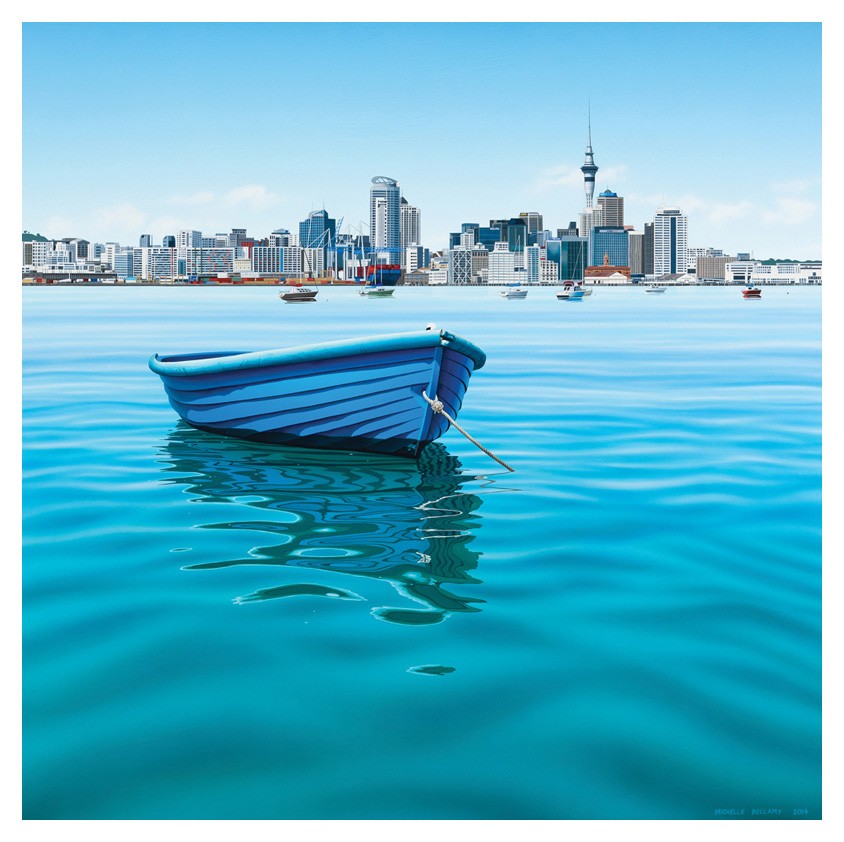 Blue Dinghy Day
«
About this artwork
This limited edition print is available in 2 sizes:
Small = image size 245 x 245mm (paper size 305 x 315mm)
Large = image size 500 x 500mm (paper size 610 x 625)
Total edition size of 150 regardless of size;  ie only 150 prints of the particular image will ever be produced.
Artist bio
An extremely accomplished photorealist painter, Michelle Bellamy comes from a family of artists.  She grew up in Nelson and after living in Taupo for two years, she has now returned to her hometown.
The purity and brightness of her palette captures and intensifies the clarity of New Zealand's light, holding her subject matter up in stunning colour and detail. Often drawn to the water's edge, through precision brushwork and careful layering, acrylic paint serves to render extraordinary the iconic and much loved baches and boathouses of our recent past.  In her new work these are sometimes juxtaposed with the contemporary Auckland skyline, an added dimension which both records our history and channels a certain nostalgia for golden days gone by.
Shipping & Delivery
Orders received by midday will be dispatched next working day.
New Zealand Orders
FREE Shipping.
Couriered with Poste Haste or Castle Parcels.
International Orders
Shipping included in orders over $800.
International Courier with NZ Post.