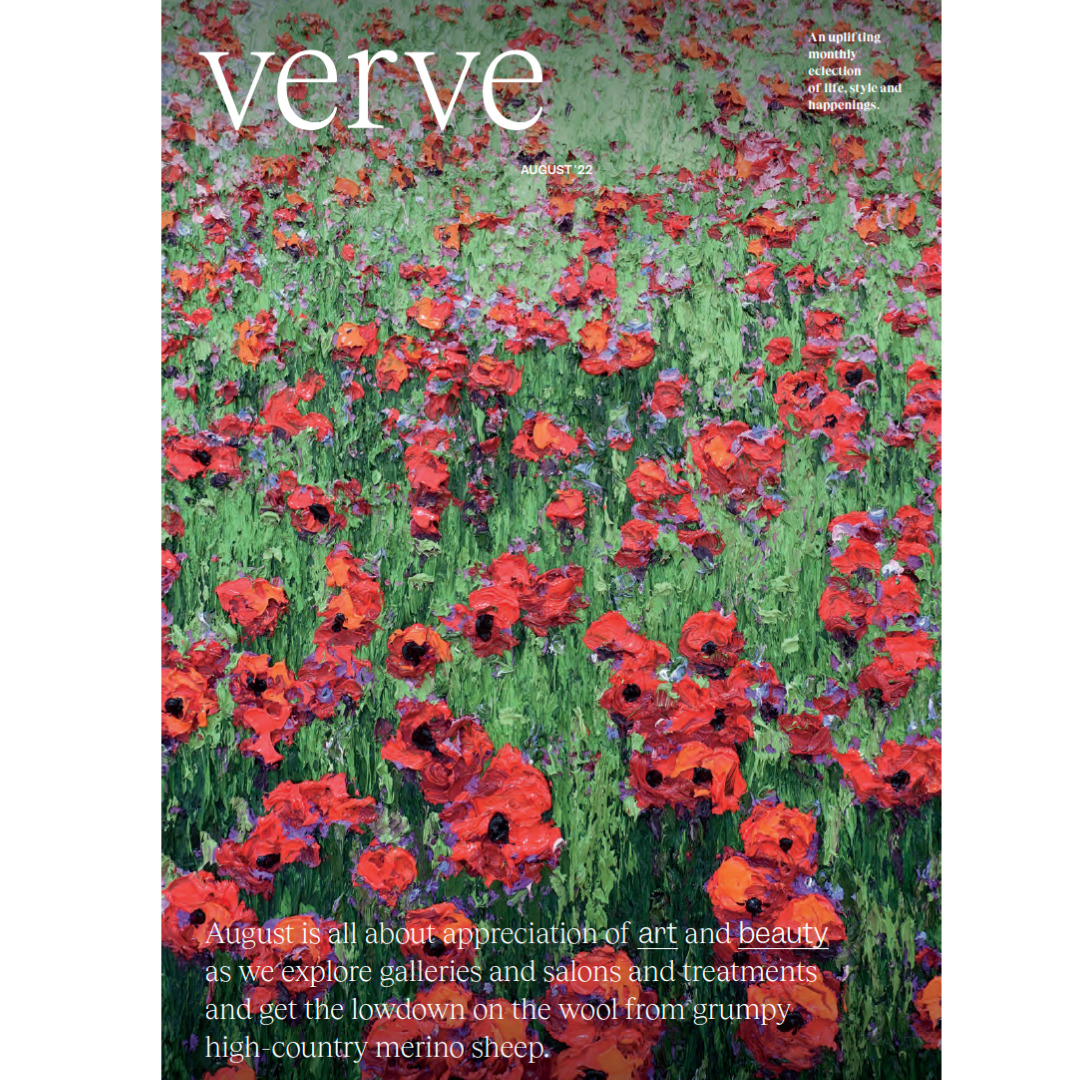 In the August 2022 edition of Verve Magazine we see a field of captivating poppies take over the cover from the artists continuing 'The Honeymooners' Bed' series.
—
Working in thick impasto oils, contemporary painter Peter Hackett creates captivating and immersive landscapes,presenting to the viewer's eye his sublime vision of nature's incomparable beauty.
Hackett's studio is situated at his home in Auckland's northern countryside, the lush surroundings providing the artist with an abundance of colour and form to observe and interpret inside the studio.
A living, breathing entity, the studio is a work of art in itself, full of evidence of the performative nature of painting. On entry, the senses are flooded with thick oils campaigning to take over the walls, an extension of the artist's palette. Alongside the usual needs of a painter; an area to clean laden brushes and mix paints, Hackett has reserved a corner for objects that spark fond and poignant recollections such as a photograph of a conquered mountain and other thoughtfully curated personal and meaningful mementos.
Flowers have long held the role of muse, their aesthetic, olfactory, and tactile qualities inspiring artists throughout history. Hackett Invests in this tradition while engaging with a contemporary framework; observing and presenting flora in a magnetic commingling of abstract and figurative representation that invokes an intoxicating and enchanting sense of passion, scent, texture, colour, and presence.
In this latest bodv of work. Hackett continues to be inspired by the swathes of colour that fill the fields and frame bodies of water during spring and summer, his alluring paintings reflecting and embodying the headiness of the season's imminent arrival.
'Recent Paintings' is on view at Parnell Gallery 2 – 16 August 2022. View all exhibition works here.