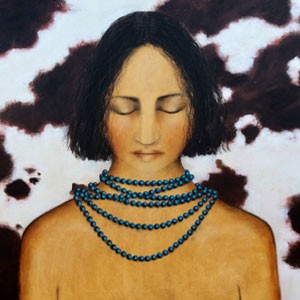 Dalene Meiring's latest body of work invites the viewer to engage with 'A Shared World' brimming with vibrant hues and eclectic imagery.
Expressively offering themes of femininity and connectivity, Meiring creates worlds in which familiar motifs such as flowers, landscapes, birds, and animals, take on wider symbolic qualities.
'A Shared World' reflects Meiring's fascination with all living creatures coexisting in various ways. She celebrates the unique ideas and intricacies we all bring to the world. "I wanted to set the scene where individual beings contribute to the adventure of living together. We draw from each other as we move through experiences. We need flowers to celebrate. We love to listen to birds singing. It's therapeutic to watch a dog sleeping. The farmer needs his livestock. We want to beautify objects to make them a pleasure to look at. Each one of us brings something different, sometimes incongruously, to the table – whether the contribution is needed, or just for pleasure and beauty."
The large scale of these works rendered in oil offers us a place to contemplate the shifting textural layering and serene tapestries so reflective of the timeless fragments of daily life.
Born in Sasolburg, South Africa in 1965, Meiring studied art at the University of South Africa. In 1997 she emigrated with her family to New Zealand where she has continued to paint full time. Meiring's work is exhibited in private and corporate collections throughout New Zealand and overseas.
'A Shared World' marks Dalene Meiring's 20th year with Parnell Gallery, having proudly represented the artist since 1998.