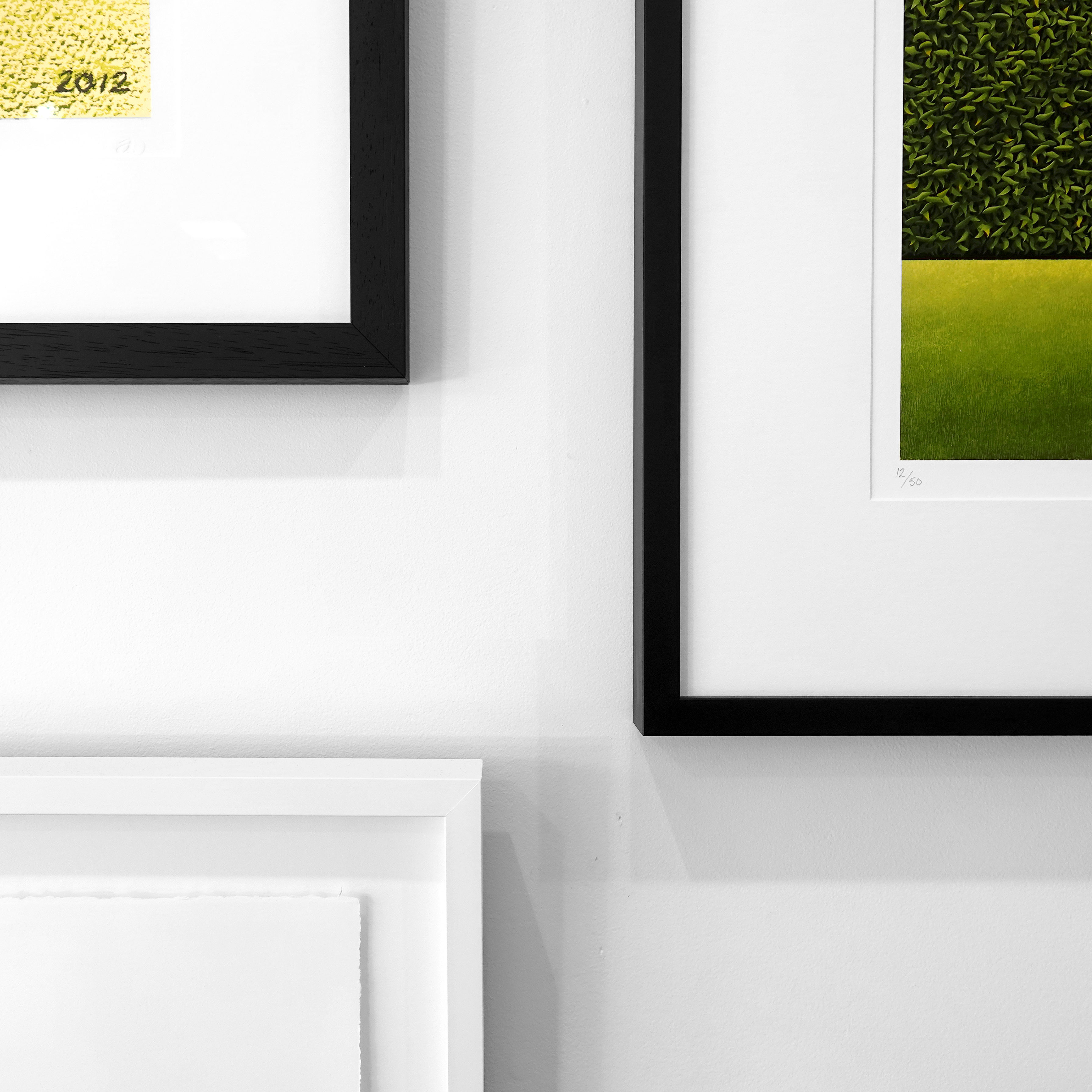 We have put together the following overview of to assist in finding your preferences for glass type, conservation matters, and of course, style.
Our gallery team will provide advice and quotes based on what you have in mind, and answer any queries you may have. Plus, we're always happy to make suggestions for the colour and size of your frames and mats, and if you have something specific in mind we're here to listen.
Our most popular framing options are outlined below, although we can also assist with box framing (widely used for framing photographs) and canvas framing also – just ask.
WINDOW MAT FRAMING
– the mat sits over the artwork, creating a border.   
An over-mat can provide both a classic or contemporary style to your framing and this is a great option for standard archival framing. A mat will be custom-fit to your artwork, in the tone and width to specifically suit the artwork.
The over mat sits between the glass and the paper, keeping the glass from resting directly on the artwork.
Window mat frame timeframes: Typically between 10-14 days.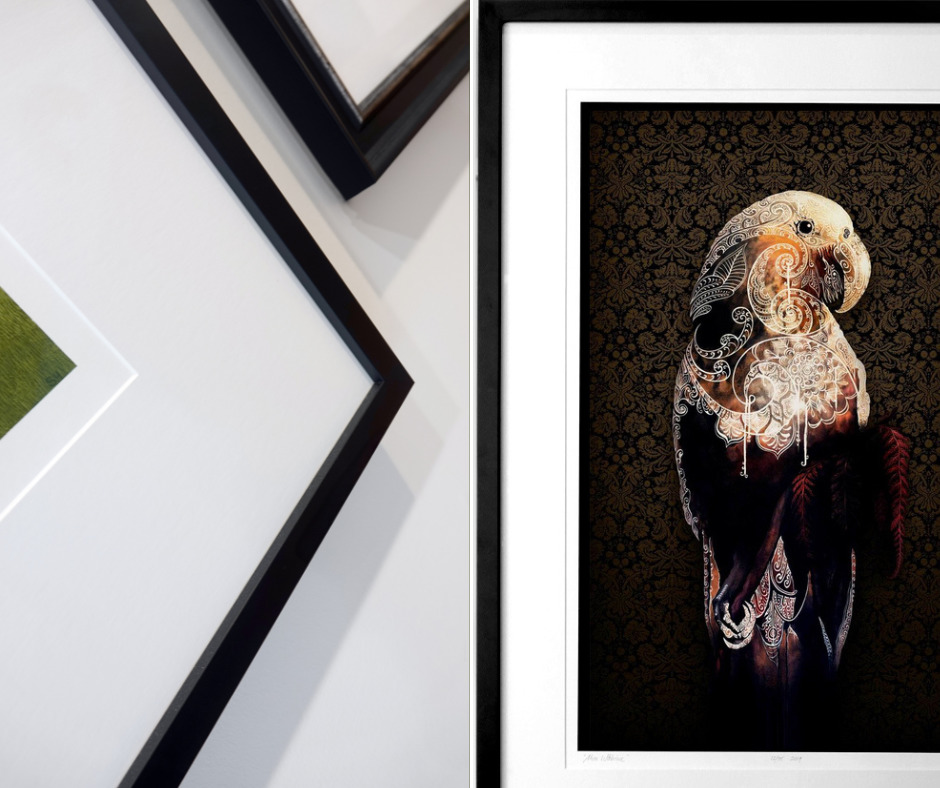 FLOAT FRAMING
The artwork sits on the mat.
Float Framing presents the artwork in its entirety, including the edges of the paper. This style lends itself beautifully to works on paper with 'raw' edges (known as a "deckled edge").
In Float Framing, the artwork is secured with archival hinges to the archival mat board underneath. To ensure the glass does not touch the artwork, a 'spacer' is used to achieve this.
Float frame timeframes: Typically between 10-14 days.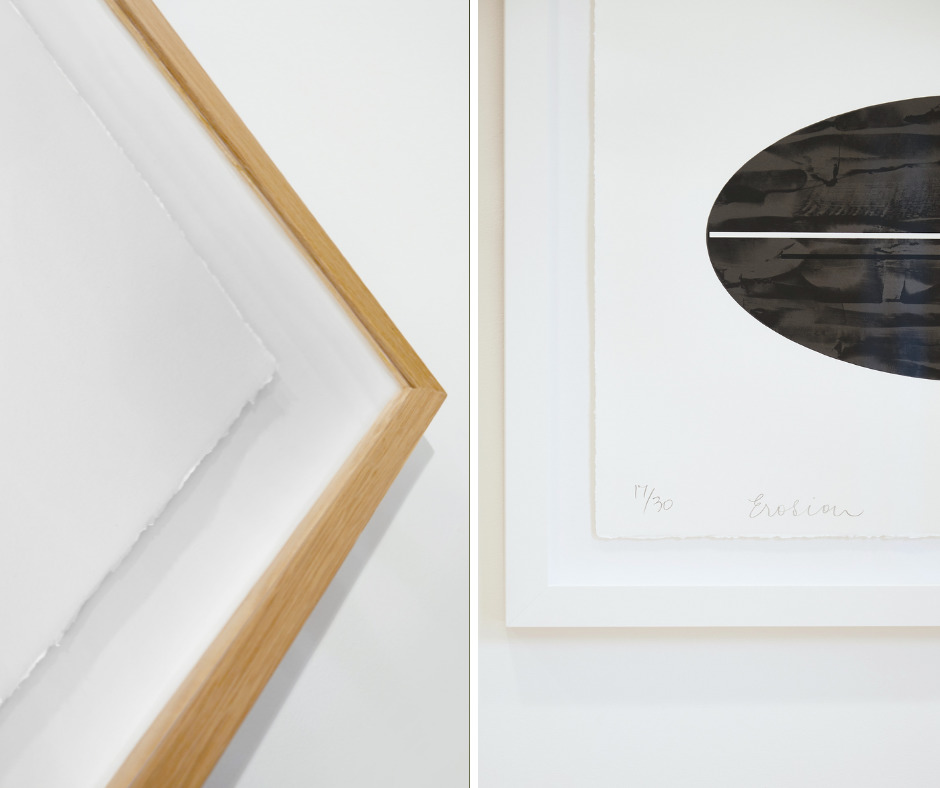 Selecting the right glass for your framing
Your artwork is precious, and many works on paper are susceptible to fading and discolouration. Glass with UV filtering qualities will greatly reduce this risk. At Parnell Gallery we highly recommend UV-protective glass when framing your artwork – this offers your print maximum protection.
Options include:
Standard Glass: Due to its low UV protection we do not recommend this glass and only quote to frame with it by request.
UV99 Conservation Clear Glass is the most commonly used for UV protection. It offers 99% UV protection to keep your artwork looking good for years to come. This glass has no reflection control qualities.
Reflection Control Glass (AR Glass) is the modern answer to reflection control. Optically correct and ultra-clear with very low levels of reflection, in some conditions it may appear there is no glass at all. It is available in UV70, UV92, and Museum Glass UV99. Reflection control glass does not completely eliminate reflection but does reduce it immensely.
UV 99 Reflection Control Museum Glass, having all the same reflection control and clarity as the UV70 and UV92, this offers 99% UV protection, making it the ultimate in glass choices and is frequently by major public art galleries and museums. Depending on the size of the artwork the cost for Museum Glass can be as much as three times that of regular AR Glass, and so can be prohibitive for regular, 'everyday' framing.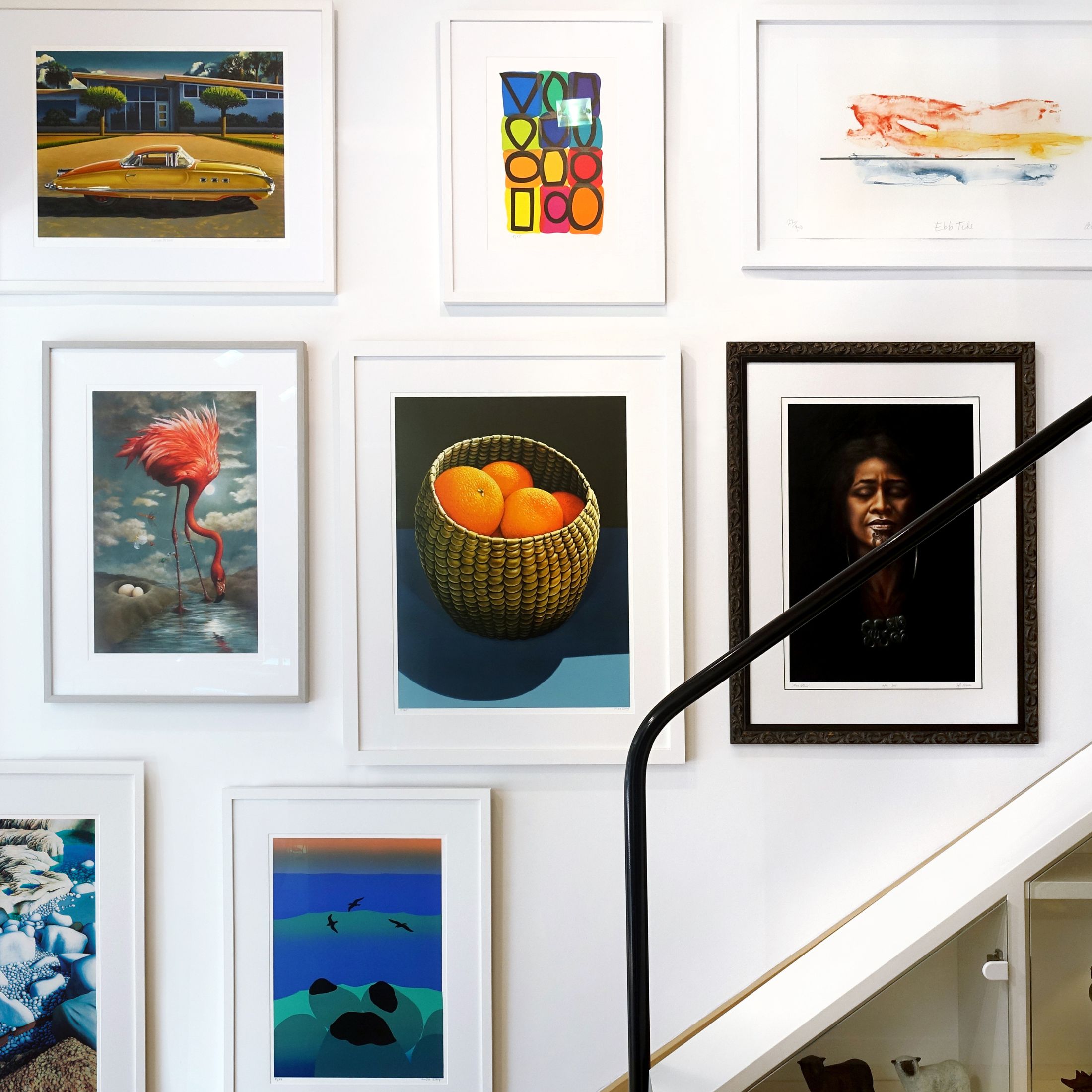 Other Considerations
Conservation and Archival Materials in Framing. 'Conservation Framing' is a term used to describe the use of materials and techniques which provide protection to framed works of art on paper. It is important to use acid-free museum-grade mat boards, acid-free backings, and acid-free hinging tapes, and UV protection glass as outlined. The use of archival materials will ensure your artwork is protected from 'foxing', UV damage to the artwork and matboard, and is kept in beautiful condition for decades to come.
Preservation: Consider the environment in which the framed artwork will be displayed. Avoid exposing the artwork to direct sunlight, humidity, and extremes in temperature change.
Certification: When you purchase your original or limited edition artwork, it will be accompanied by a certificate of authenticity. Please keep your certificate in a safe place as it provides assurance of the print's quality and legitimacy, particularly when valuing or reselling.
Hanging: Make sure the hanging hardware is securely attached to the frame to prevent accidents. The print should hang at eye level for the best viewing experience.