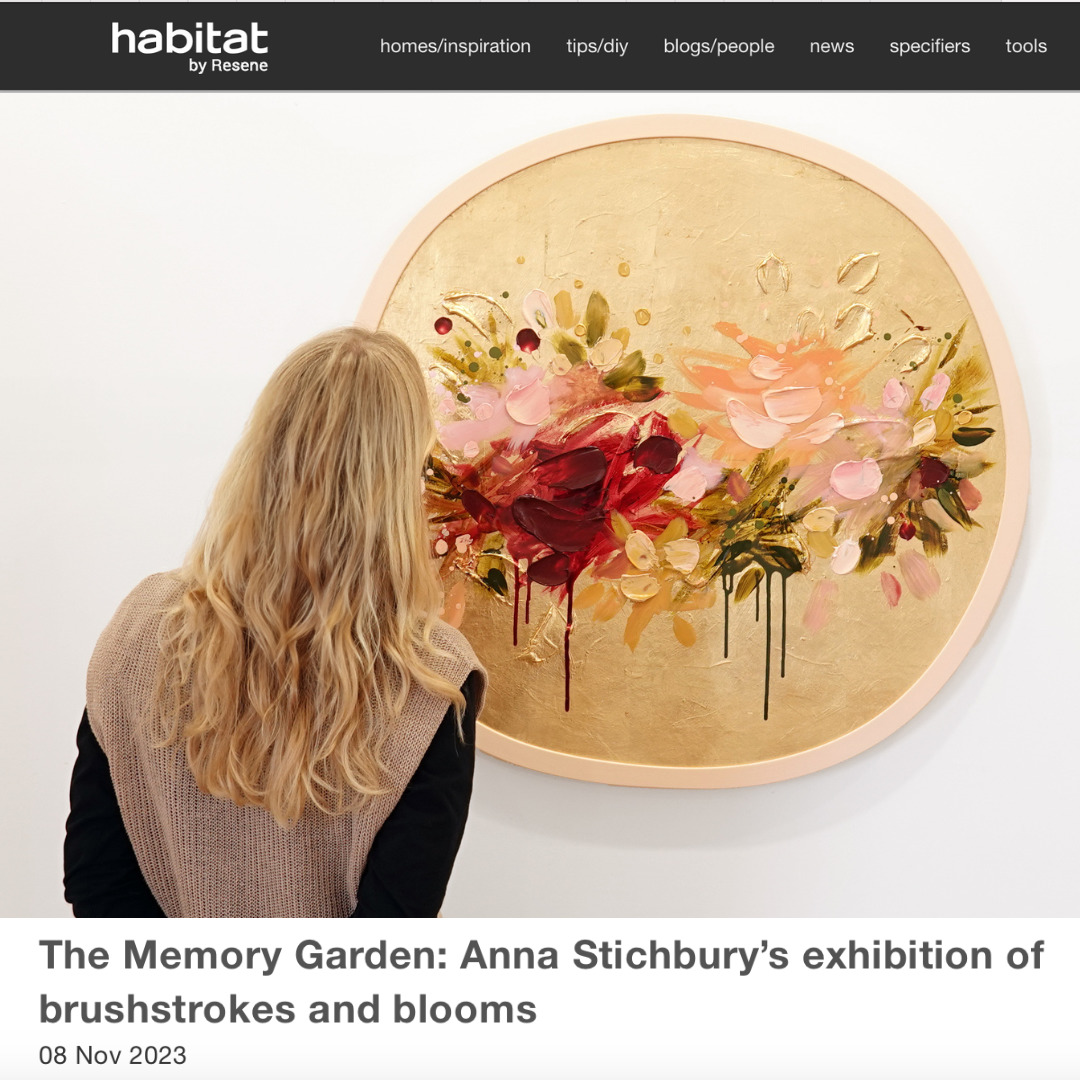 Click through to read the full article on the habitat by Resene website here, or continue to read below.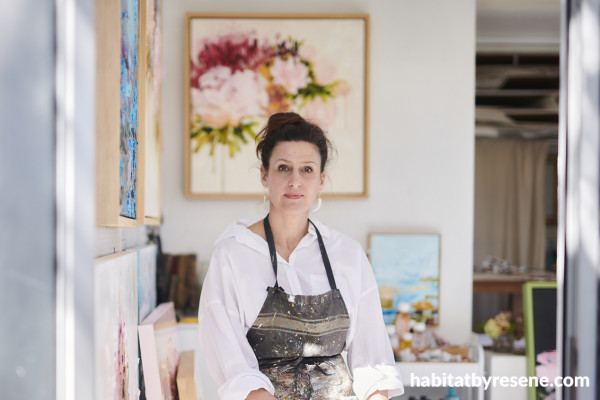 The Memory Garden: Anna Stichbury's exhibition of brushstrokes and blooms
08 Nov 2023
Artist Anna Stichbury's work is vibrant and bold with powerful hues. Her latest exhibition, titled 'The Memory Garden,' is currently on display at the Parnell Gallery until November 21. As we delve into Anna's artistic journey and creative process, we discover the inspirations and motivations that fuel her captivating creations.
Bold and intense hues are the hallmark of Anna Stichbury's artworks, which she describes as a "playful exploration of colour and abstraction." Her paintings offer an immediate impact, drawing viewers into a world where the natural environment, oceans, land and local flora serve as common themes. Anna's vibrant and rich canvases are a testament to her passion for texture and colour, inviting us to experience her artistic vision.
Anna's artistic journey began from a very early age, nurturing her innate creativity and love for art. Her dedication to creative projects and artistry has been a lifelong pursuit. Her journey gained momentum as a student when she held her first exhibition in a local Wellington café. From there, a series of commissions and subsequent exhibitions paved the way for her art to be accepted at Parnell Gallery in Auckland, a remarkable milestone. Since then, Anna has maintained a bustling art practice and cultivated relationships with prestigious galleries throughout New Zealand.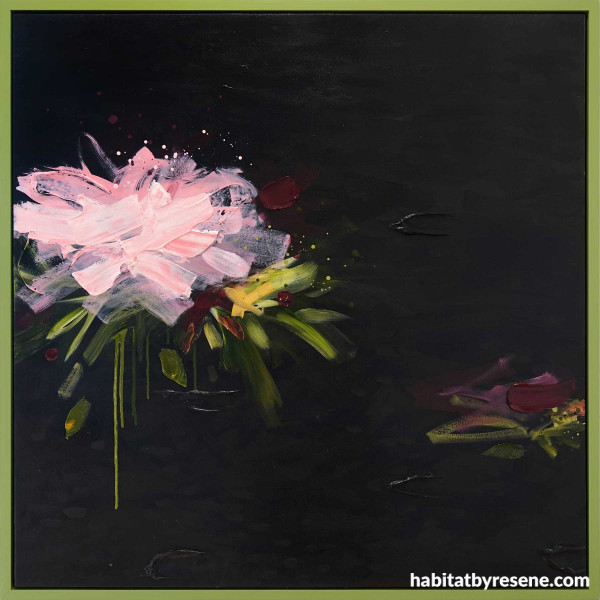 'Night Gardener' by Anna Stichbury.
Anna resides in Te Whanganui a Tara, where the ocean and forest are close companions. The ever-changing weather, dramatic skies, and tumultuous seas have long provided the creative spark for her paintings. Seasons, changing colours, blooming flowers, fallen leaves and butterfly wings all contribute to her repertoire. Anna's artistic process also incorporates unexpected influences and deliberate research, with memories being her cherished source of inspiration, providing a well of creativity she taps into while working in her studio.
Choosing a favourite piece among her creations is a near-impossible task for Anna. Instead, she immerses herself in different series or colours for a time, allowing each one to become her obsession. She acknowledges the ever-evolving nature of her artworks and embraces the growth that comes with it.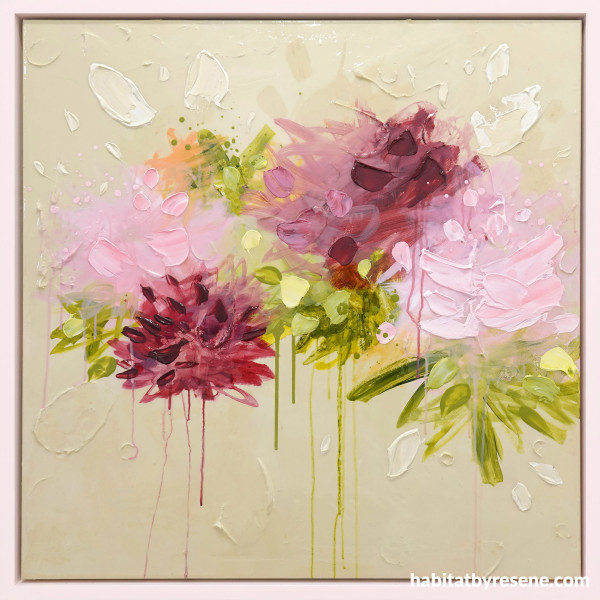 'Painted Blooms' by Anna Stichbury.
Anna's design-making process is a layered journey, much like the textures and hues in her paintings. While she starts with a specific idea, her art often takes on a life of its own as she builds up colour and texture. The end result can be vastly different from her initial concept, a testament to her adaptability as an artist.
Another element that sets Anna Stichbury's work apart is her unique use of Resene paint for framing her artworks, especially her candy-coloured wobbly frames. "Resene products have always been my first choice for projects," Anna says. So, when I needed a durable paint in a wide range of colours to use on my custom-made frames I knew where to look. I tend to select a colour from within my finished artwork for the frame colour. The frame is always painted last, and I often sample a range of Resene hues to achieve the right colour. It's important the frame becomes part of the artwork and works to enhance it."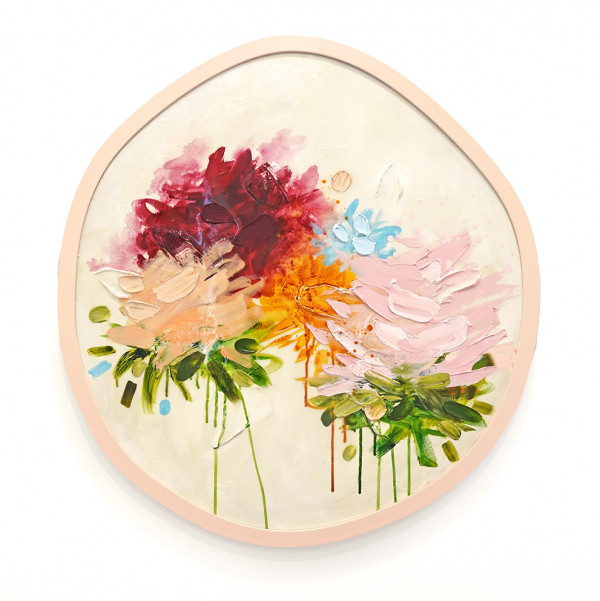 'Because I adore you' by Anna Stichbury.
Anna has nurtured a strong and loyal 30-year relationship with Resene, a brand deeply embedded in her artistic journey. Her connection to Resene goes back to her childhood, where her father's friendship with the owner laid the foundation for their enduring partnership. Literally, from childhood until today, Anna has transformed every possible painted surface, from walls to furniture and weatherboards, with Resene's versatile palette.
Anna fondly recalls lively gatherings around her father's kitchen table, brainstorming new colour names and ideas. During her student days, she would fill a substantial bag with Resene testpots in every colour she desired, which marked the inception of her artistic journey. While Anna has since transitioned to fine art paints, Resene remains an integral part of her practice, and she employs a range of brilliant greens, yellows, pinks and neutrals to paint frames, bedheads, planters and other creative projects.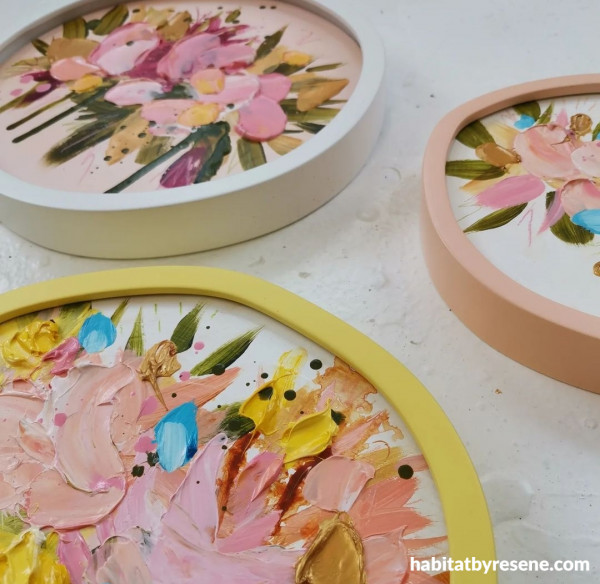 Anna's unique wobbly frames, painted in gorgeous candy colours which complement her artwork.
White Resene paint plays a crucial role in her studio, where she repaints walls and floors every six months, creating layers upon layers that tell the story of her artistic process. To achieve her artistic vision, Anna relies on Resene's selection of large paintbrushes, which she finds perfectly suited to her creative needs. Resene has not only been an essential partner in Anna's artistic journey but has also enriched her work with its vibrant, enduring colours and products.
Anna's current favourite Resene colors include Resene Vanilla Ice, Resene Dust Storm, Resene Cosmos, and the lush Resene Koru green, showcasing the depth of her appreciation for the range of Resene hues available.

Anna Stichbury's exhibition, 'The Memory Garden,' invites art enthusiasts and connoisseurs to immerse themselves in her captivating world of colour, texture and emotion. Don't miss the opportunity to experience her unique vision, on display at the Parnell Gallery until November 21.
Click here to view Annas exhibition works now