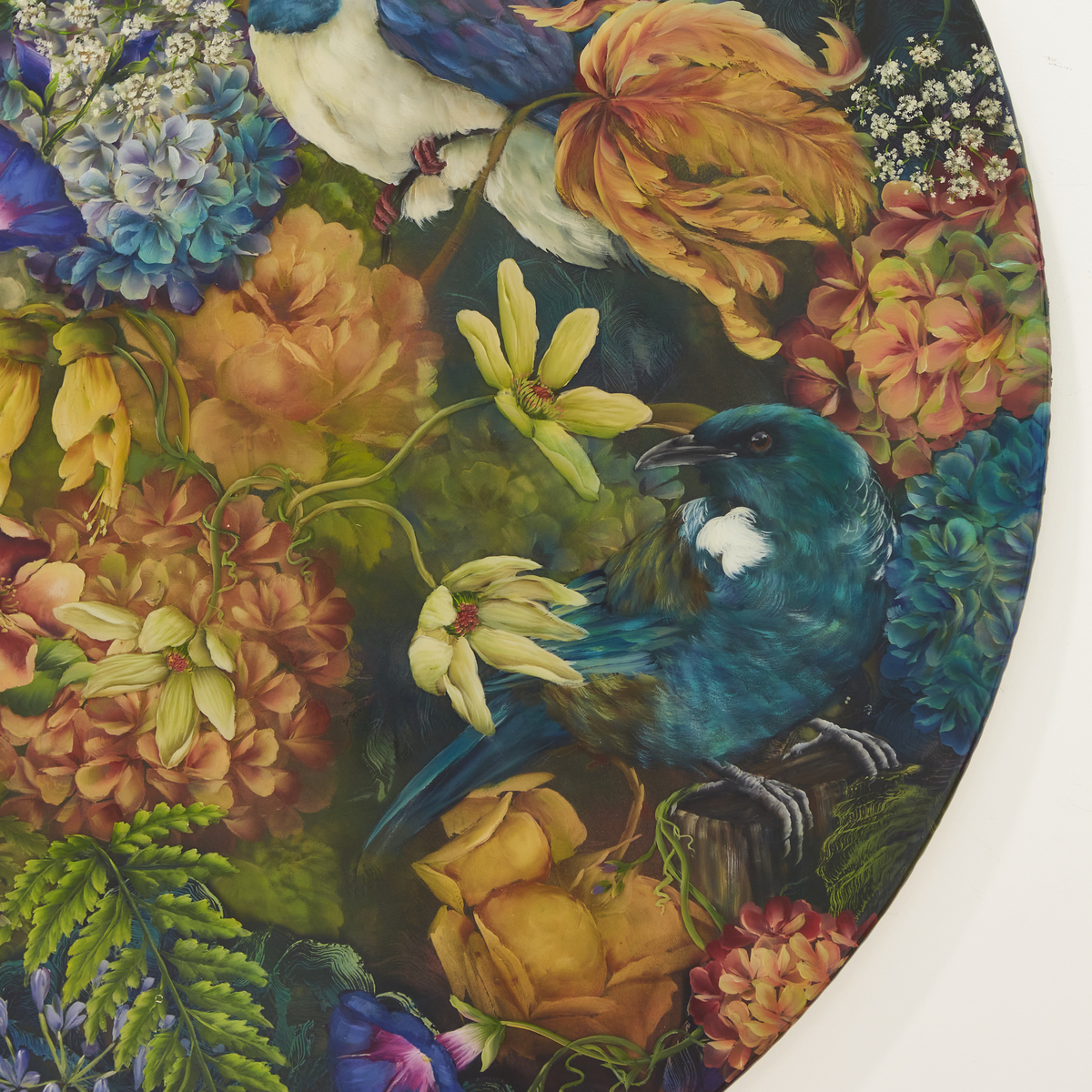 Having recently joined Parnell Gallery's stable of artists, we are delighted to introduce contemporary New Zealand painter, Janette Cervin.
Cervin creates large scale paintings that offer an invitation to an immersive antipodean paradise, teeming with exquisitely detailed New Zealand flora and fauna. Cervin creates the works by applying multiple layers of resin and paint and sanding selected areas of layers between, building a unique depth of scene that draws the eye in and providing a sense of full immersion within the landscape.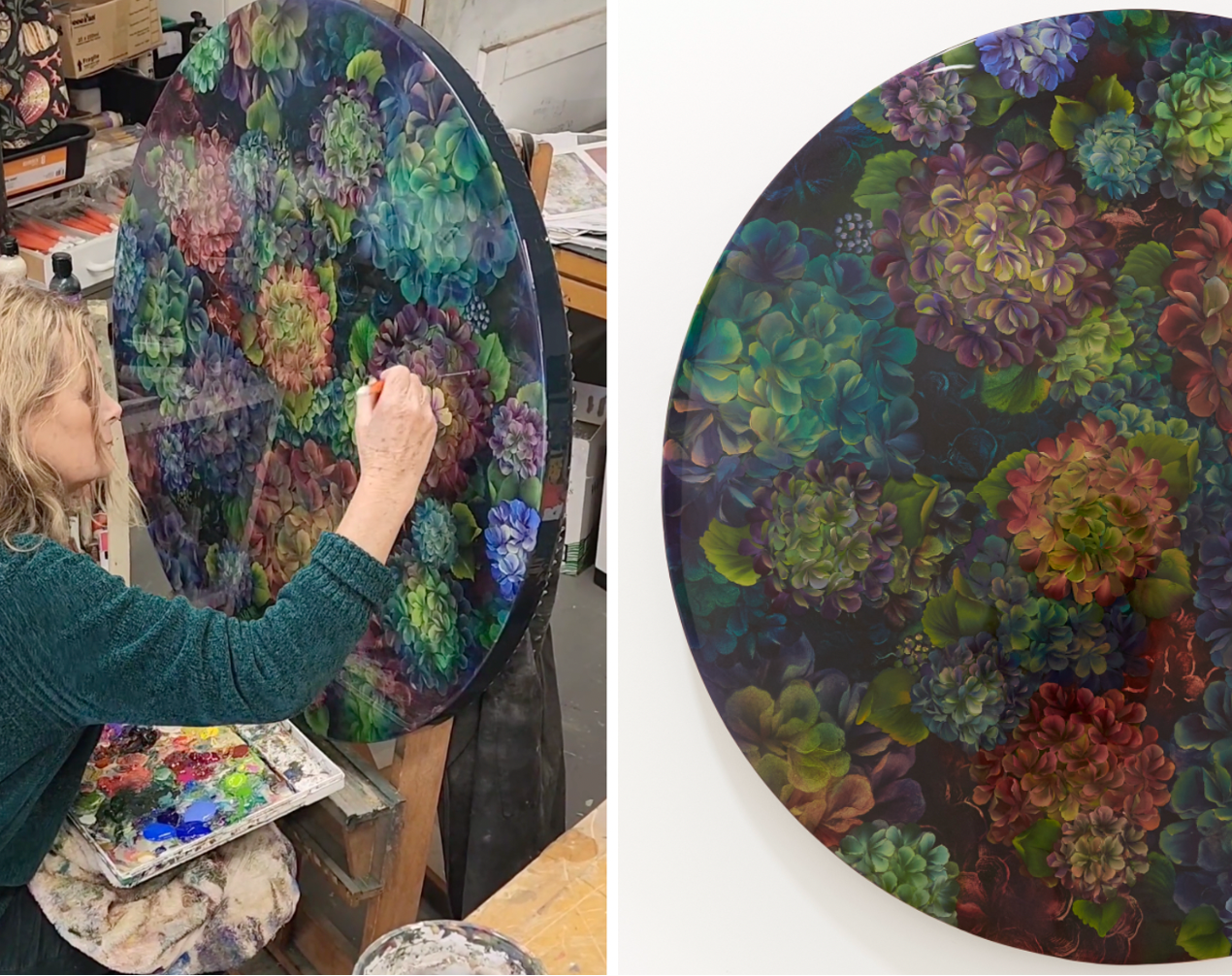 "These paintings celebrate the vitality and beauty of our clean green New Zealand landscape, whilst also drawing attention to the fragility and transience of such beauty in our contemporary world. I walk through our garden on the edge of the bush, and all I see are endless paintings. I hope by capturing the bush I can help others to preserve it."
– Janette Cervin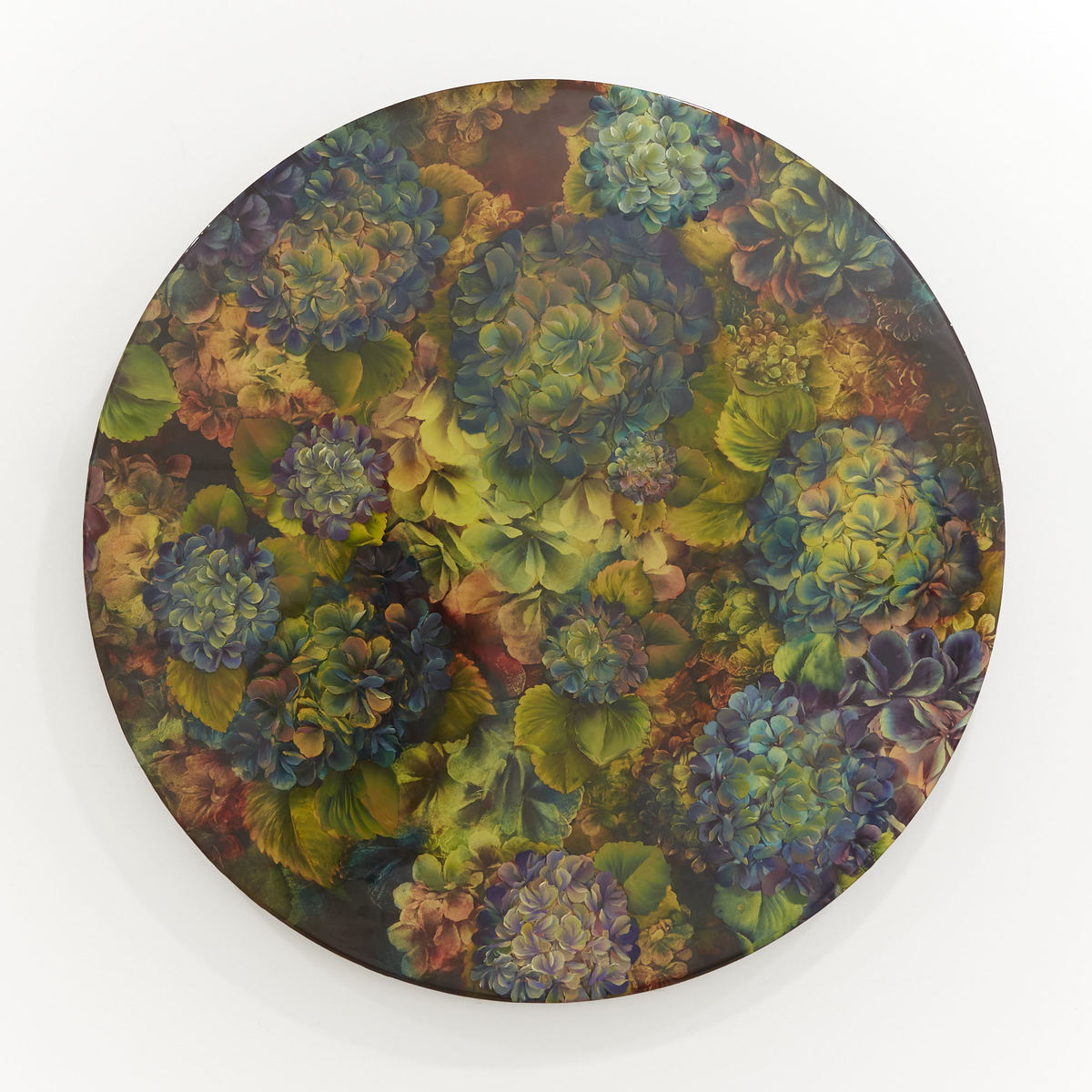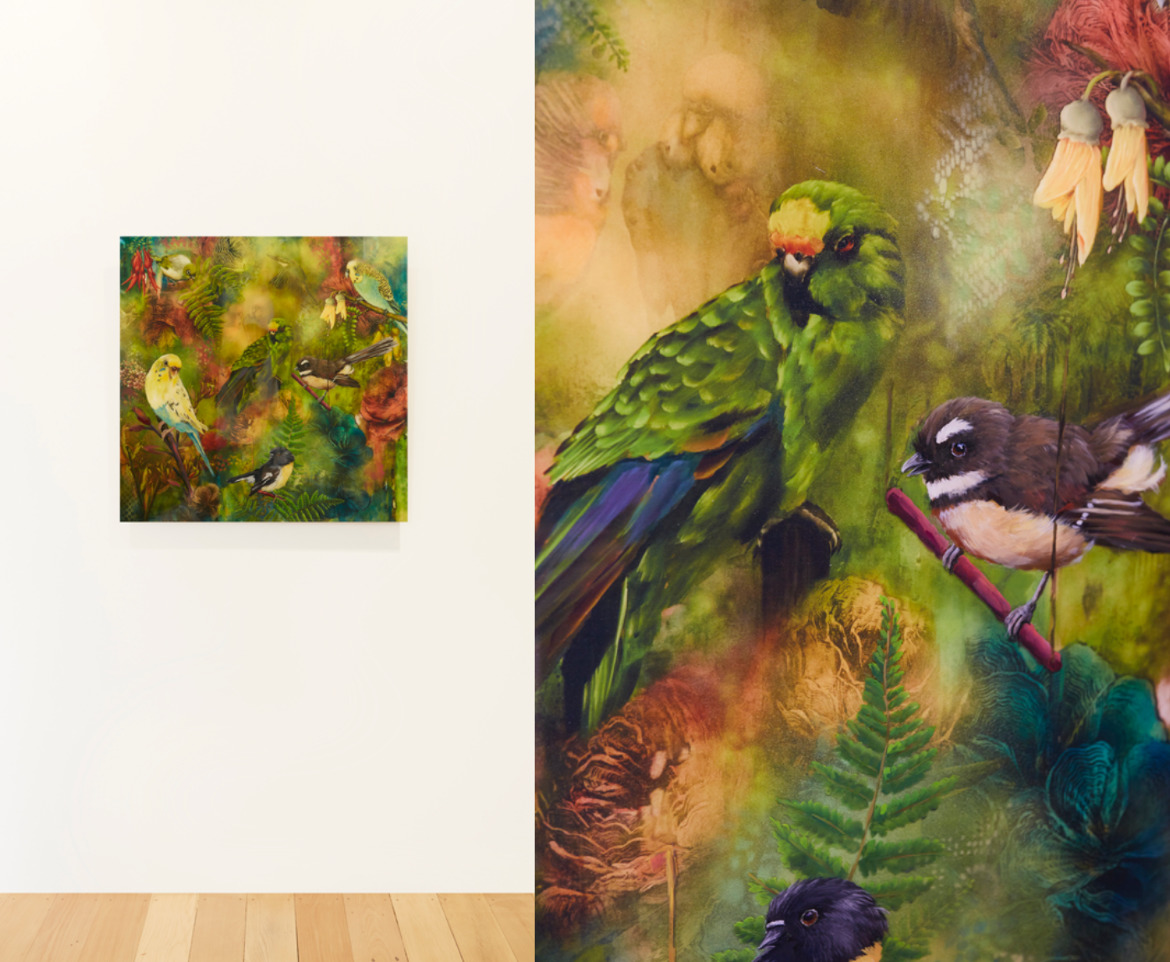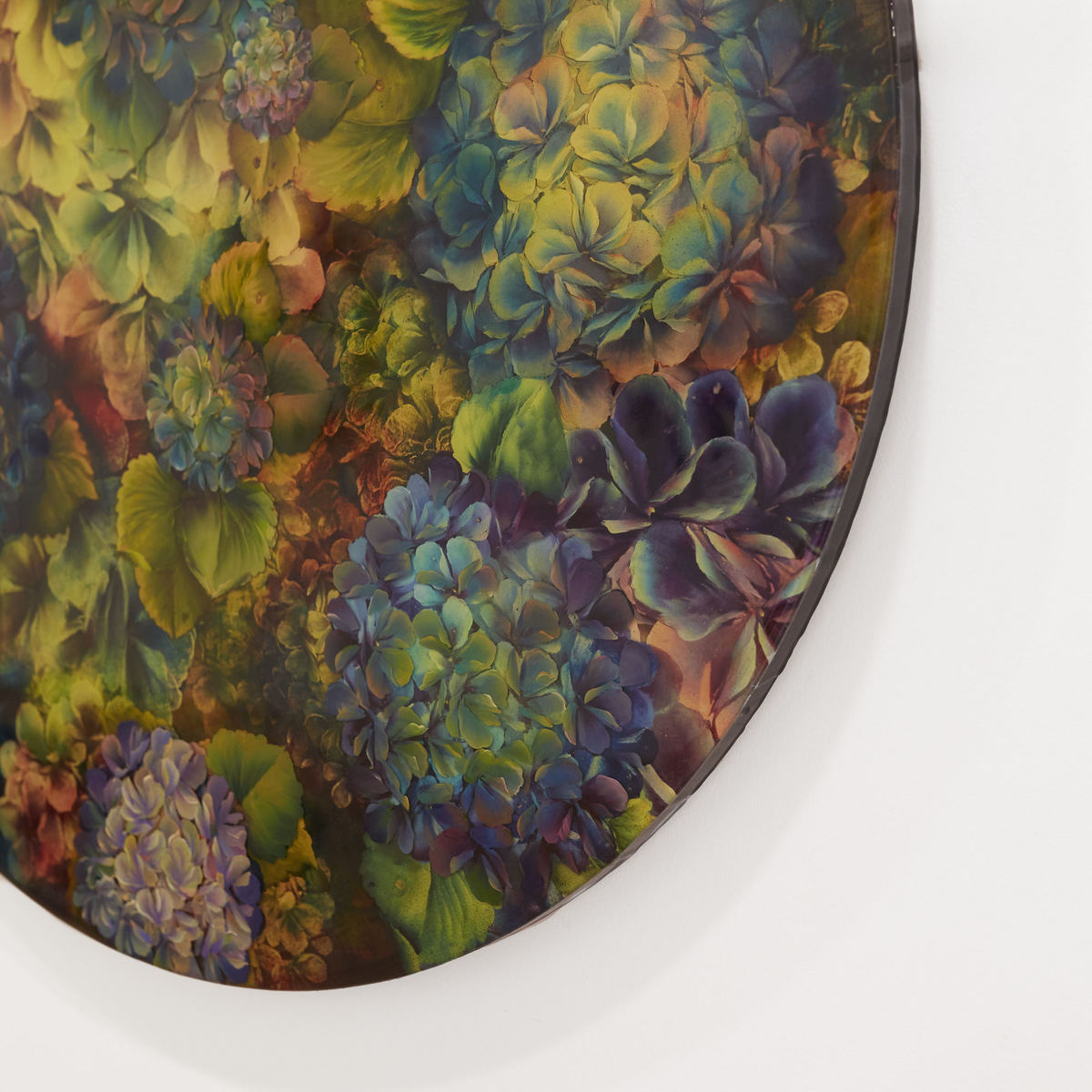 Vibrant hues bring plumage and petals to the forefront, creating a whimsical dance of detail and colour. An immersive illusion of depth is created through the combination of traditional painting conventions and applications of thick layers of glossy resin. This process is repeated to accentuate a three dimensional space. Some areas are also intentionally sanded back, resulting in some flower details being suspended throughout the painting at varying depths from the surface. This ghostly hint of flowers amongst the viscous glazed layers alludes to the pentimento effect achieved by the old masters and builds a unique depth of scene that draws the eye in, providing a sense of full immersion within the landscape.
Cervin's relationship with the natural environment, and flora in particular, is historical and ever lasting. Growing up in the family nursery business provided a childhood surrounded by beautiful blooms and the opportunity to quietly observe the wildlife they attract, along with a deeply ingrained understanding of our ecosystem's vulnerability. Her practice is a response to those experiences, presenting works that speak to the wonderment of beauty while encouraging the viewer to acknowledge the endangerment our natural environment faces in the modern age.
You can view Janette's current works with us by visiting her artist page here