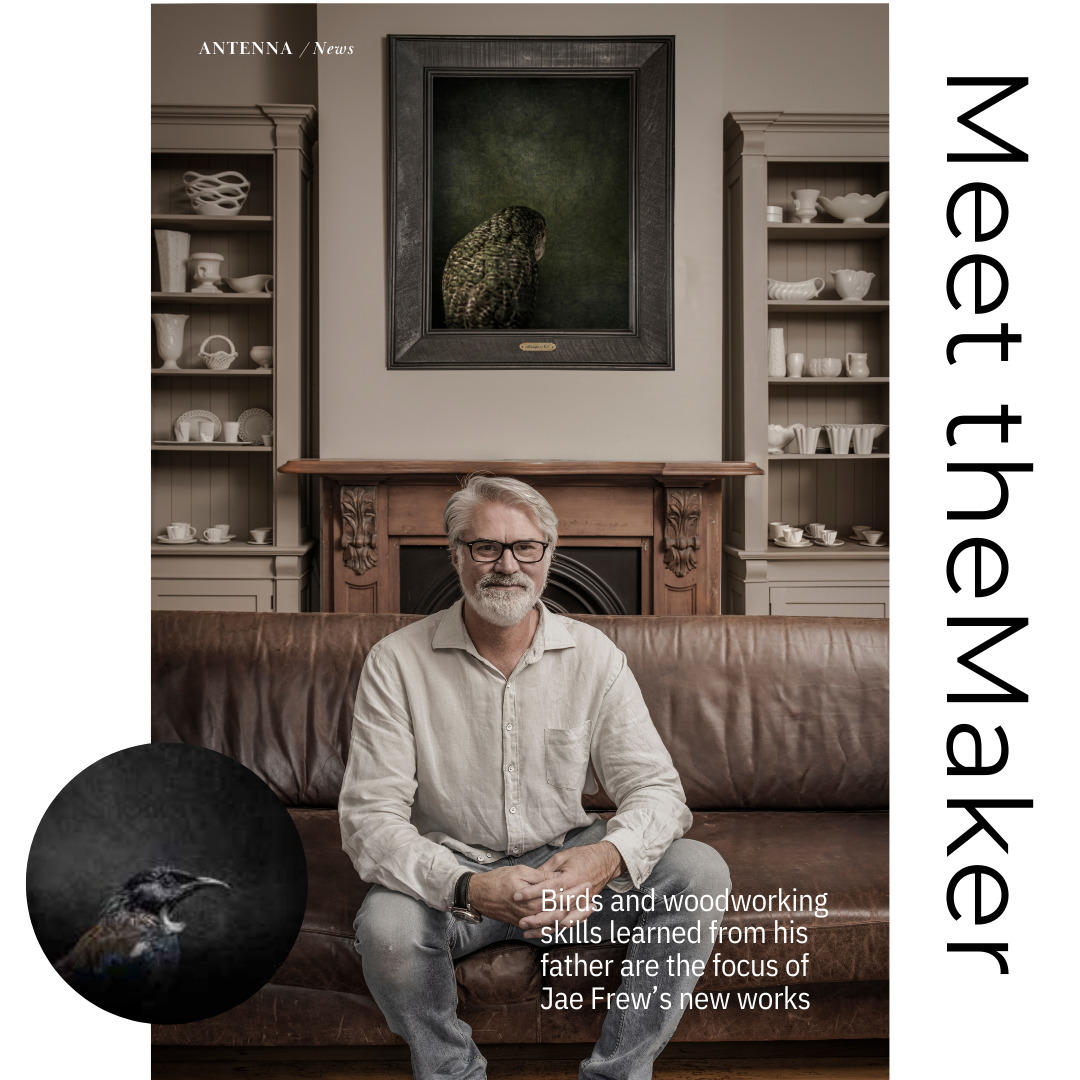 We are delighted to share 'Meet the Maker' from NZ House and Garden's latest April/May 2023 issue which features Jae Frew, ahead of his upcoming exhibition Manu Kōingo – Birds of Yearning which will be on view at Parnell Gallery from 12 March – 4 April 2023.
Meet the Maker
Birds and woodworking skills learned from his father are the focus of Jae Frew's new works
Two of Jae Frew's childhood fascinations – bird conservation and woodworking – resurfaced during the Covid lockdowns and the Auckland photographer has spent the past two years exploring them for his new solo exhibition, Manu Kōingo – Birds of Yearning.
He was given access to taxidermy collections from the likes of Museum of New Zealand Te Papa Tongarewa and made frames for his exquisite photographs of albino kiwi, huia, kōkako and kākā from repurposed native timbers, such as kauri, rimu and tōtara which were sourced from renovations and naturally fallen trees. "I love working with these timbers. Each has their own characteristics, such as their smell (kauri is the best) and the way they are able to be worked and moulded." The exhibition's name was conceived by Professor Ngahuia Te Awekotuku who specialises in Māori cultural issues. "Manu means bird (or any winged creature) and kōingo means yearning, fretting, longing, remembering, and trying to retrieve – a place, an object, a person; usually gone forever," Jae explains. "It expresses a sense of hope for our remaining native birds, while also bringing awareness to their conservation and what treasures they are to Aotearoa New Zealand."
You can see Jae's exhibition at Parnell Gallery, Auckland, from March 21 to April 4, and online at parnellgallery.co.nz.