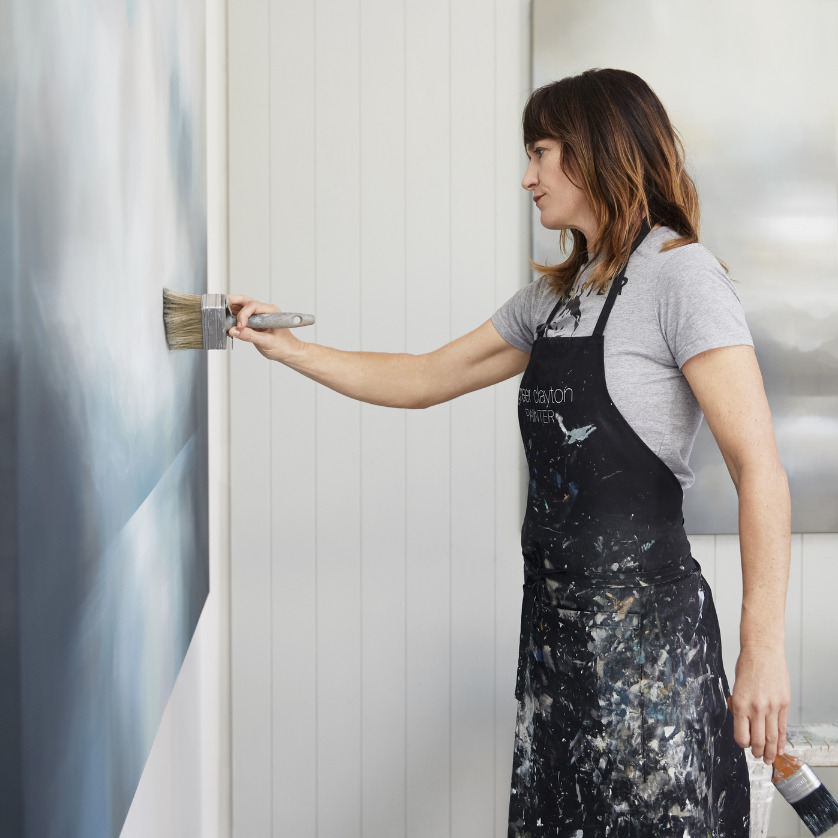 (Image above, and main image in below article by Belinda Merrie Photography)
Contemporary artist, Greer Clayton, has seen much of the world, traveling extensively while also exhibiting in Sydney, London, and Scotland. However, New Zealand remains her muse, indulging her self-confessed "obsession" with our breathtaking horizons. Working in mixed media acrylic on canvas, Greer sensitively enquires into subtle variations in colour, light, and form. Her work is often described as ethereal. Ahead of her upcoming exhibition, 'Light Layers' we sat down with Greer to discover which New Zealand locations are dearest to her heart and have influenced her work.
Greer is passionate about conservation of our treasured natural landscapes that inspire her work and in 2019, as an invited artist with Heritage Expeditions, she travelled to New Zealand's Subantarctic Islands, including Campbell Island, Auckland Islands, The Snares, and back through Stewart Island, Doubtful and Dusky Sounds aboard the 'Flightless' with adventure boat charter business Pure Salt. This proved to be a pivotal journey for Greer, as evidenced in much of her work since. Pure Salt shares the Department of Conservation's vision for Tamatea / Dusky Sound to be one of the most intact ecosystems worldwide and Greer is passionate in her support of their Dusky Sound Restoration Project. In response to her journey with Pure Salt, she created a series of paintings, some which were sold to help support the project. For Greer, the impact of her journey is long lasting and she continues to be inspired by her experiences as one of her upcoming exhibition paintings, 'Fiordland Glow' shows, exuding the profound beauty and sense of serenity the region is known for.
Other noteworthy locations that have made their mark in the artist's work include Mangawhai in Northland, where her parents are longtime locals of the coastal township, and idyllic Hatepe near Taupo, where Greer, her husband, and two children enjoy time together at their holiday bach. The family are avid hikers and heading south to Te Anau, they recently completed the Kepler Track walk, with the majestic views along the 60km hike inspiring another exhibition piece, 'Manapouri Light'.
As much as she enjoys adventuring up and down the country, it is Auckland that the Claytons call home. Every day, morning and night, Greer walks their family dog along Narrow Neck and Cheltenham beaches where she can muse with Rangitoto Island as her picturesque backdrop; a ritual that she says bookends her daily creative process.
Rather than a direct topographical representation of the landscape, Greer sensitively captures a sense or 'feel' of a place, and through the many layers that make up each of her paintings, she shows us a clear and powerful connection to the natural environment.