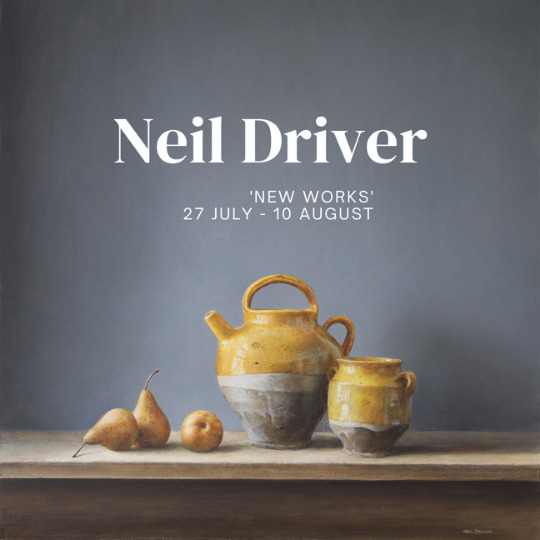 Ahead of his first exhibition in four years, we review the works of celebrated South Island painter, Neil Driver. From breath-taking landscapes spied through meticulously detailed interiors to captivating still life works featuring vessels, blooms and fruit, his works evoke serenity, calm, and presence with effortless grace.  This gifted artist brings life and beauty to the simplest objects, such as a collection of timeworn pots reflecting brilliance through its still-shining glaze, or a freshly picked plum resplendent in its delicate coating of white wax bloom.
Driver began his career in painting in 1973. Having spent his childhood in Dunedin, he moved to Central Otago in 1975 where he has remained, and it's easy to understand why. With its magical light and awe-inspiring landscapes, it is from this land that Driver derives his inspiration. His and wife Christine's heritage villa in Clyde overlooks the Clutha River, and the beautiful house serves both as a frame and backdrop within Driver's works – featuring in some of his most recognisable paintings.
The purchase of a campervan in 2009 encouraged frequent trips to coastal locations further afield, providing the observant artist with an even more diverse geographical spring from which to draw inspiration. Northland's east coast, and South Island's Bull Creek, Moeraki, Brighton, and The Catlins, are just a few examples of places Driver has made his subject, inviting the viewer to gaze out at shores and sea views through light-filled windows and open doors. An element of surrealist influence sees Driver depict the sense of a place, rather than topographical representations, placing the scene outside windows and doors that do not actually exist in the location. It's this artistic licence or allegorical freedom that emphasises a dream-like quality within the work, allowing us to be transported to a place that sits outside of time.
Through a balance of traditional and contemporary painting styles Driver sensitively guides the observer toward details that might otherwise be overlooked – the beauty to be found in the texture of a wooden crate, the beguiling light reserved only for its reflection on warm floorboards, or the intricate charm of rust lines working their way over enamelware clearly loved for generations. Each of his works carry an intense sense of human presence while the figure itself is absent from the scene.
Driver's paintings exude a timeless quality, shadow and light punctuating the scene with a gentle and lasting stillness.
His works are held in private collections worldwide and in public collections at the Hocken Library, Department of Foreign Affairs, Bank of New Zealand and State Services Commission.