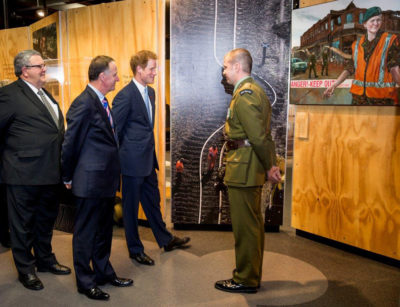 As our official Defence Force artist, Matt is having a particularly busy year. The centenary of the Gallipoli campaign has been a hugely important part of 2015 for New Zealand and Matt has been involved in many aspects of the centenary. There has been much presented to commemorate the terrible aspects of that campaign, but also much that can be seen as a genesis of New Zealand as a country in its own right.
So Matt's work this year has been dominated by the responsibility of commemoration and acknowledgement of bravery and sacrifice.
In March he completed 'Line of Fire'. This is a 3.5 metre high sculpture, commissioned by the Hamilton City Council, that is sited in Victoria Street, Hamilton. The subject is Horace Moore-Jones: local hero, war veteran and artist. The bronze sculpture sits on a plinth of Gallipoli stone gifted by the Government of Turkey and the city of Canakkle –so demonstrating collaboration and a shared sense of loss between two nations. Moore-Jones is Matt's favourite WW1 artist. "It's an honour to commemorate the artist's life and work with a large statue of him, depicting him drawing on the Gallipoli Peninsula in 1915."
In keeping with the centenary commemoration, Matt has also completed a statue of 'Henderson and Donkey' – after the famous image by Horace Moore-Jones. The continuing claim for 'owning' Henderson/Simpson continues between Australia and New Zealand. However Matt is firmly in the NZ camp over this, calling his subject Henderson rather than the Aussies' preferred Simpson.
Another commemorative production is 'The Tale of the Anzac Tortoise' : a charming and poignant picture book resulting from collaboration between Matt and Shona Riddell. The 15 watercolour illustrations provided by Matt are vivid and distinctive.
A highlight for Matt earlier this year was a meeting with Prince Harry in Christchurch. Matt discussed with the Prince his military service and his work in the Quake City Exhibition, currently on display at the Canterbury Museum.
Coming up in November, Matt will be holding a solo exhibition here at Parnell Gallery. After such a full and demanding year, we look forward to the exhibition with much anticipation.