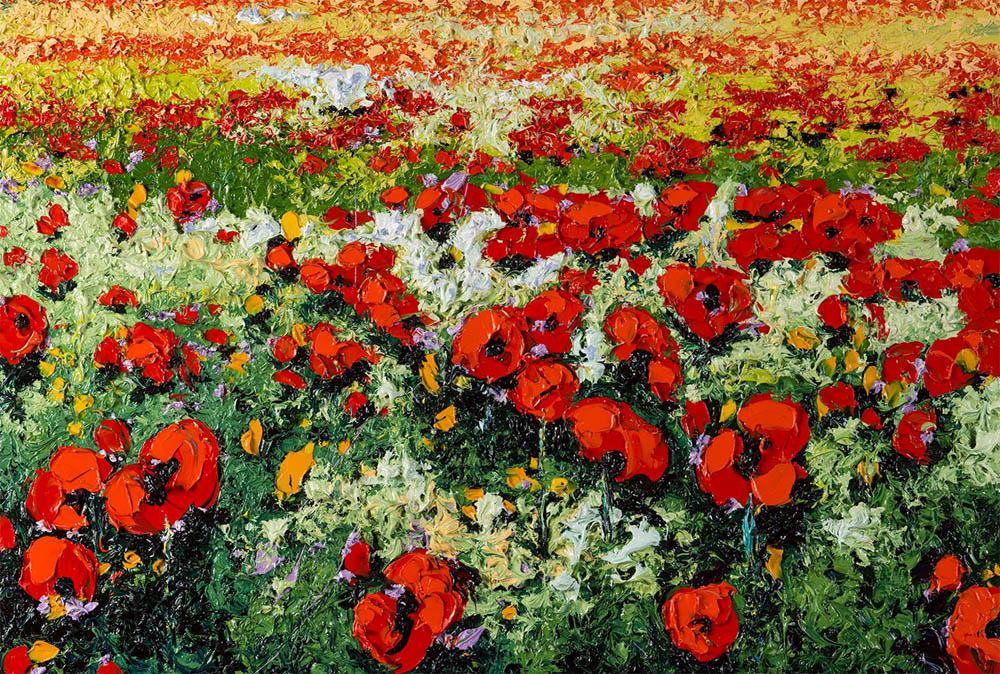 PETER HACKETT
THE HONEYMOONERS' BED EXHIBITION
JOIN US TO PREVIEW THIS EXHIBITION
PREVIEW: TUESDAY 7 OCTOBER, 5.30 – 7.30PM
EXHIBITION: 7 – 22 OCTOBER 2014
Peter Hackett returns to Parnell Gallery in October, with the next instalment of The Honeymooners' Bed. This ongoing series of large, vibrant paintings is now in its fifteenth year with every piece under the same title, which is also a registered trademark. Hackett is inspired by nature, in particular the meadow flowers that surround his studio in season. The work is full of intense colour and vigorously applied oil paint, which literally advances from the picture plane to dramatic visual impact.
In this show the strong red of the poppies, which regularly grace Hackett's work, are interspersed with joyful yellows greens and blues, full of the promise of Spring. The mottled bands of colour recede into the distance, creating depth from a low, intimate angle.
Some paintings focus on smaller areas, bringing us even closer to the picture plane and inviting us in to the generous, celebratory experience of paint and nature. "I am not just using oil paint to describe a meadow, I am using a meadow to describe oil paint."
Impressionist influence can be further seen in the effect gained as we step back from the paintings. The abstract plane of paint, texture and colour magically transforms into a field of skilfully described flowers and grasses. Viewing The Honeymooners' Bed is an intoxicating experience of the senses, offered by an artist in full control of his unique technical approach and endless inspiration.
TO VIEW THE EXHIBITION CLICK HERE