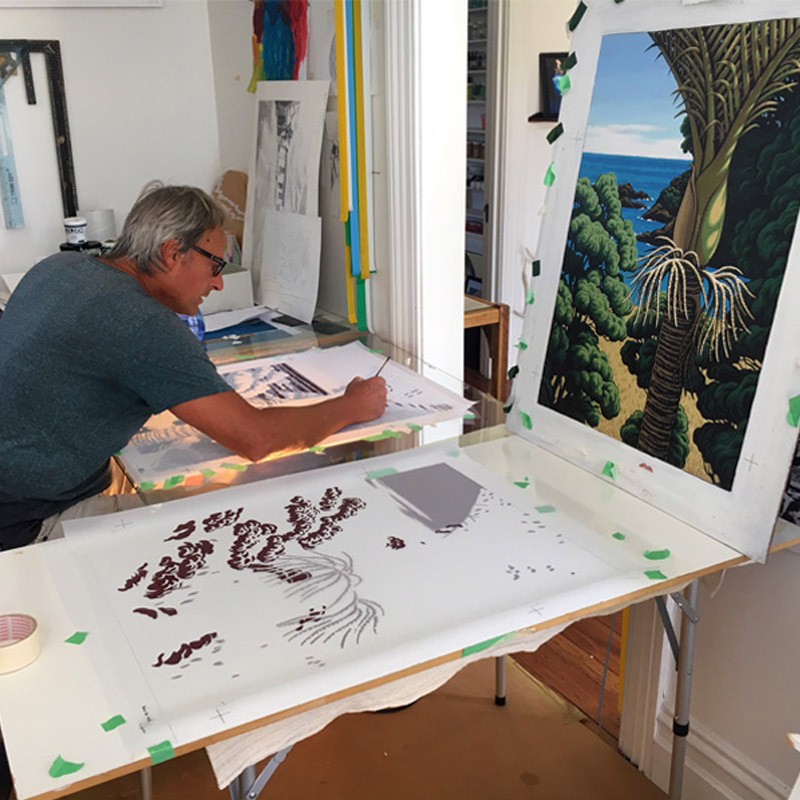 Fresh from the artists studio to the gallery, Tony Ogle has just released his latest screenprint, Lottin Point Nikau, and it is, in true form, full of rich pigments boldly describing a familiar scene.
Tony has adapted the print from a large-scale acrylic painting, meticulously translating the composition onto screens, reimagining the colours into layers with which to build this stunning limited edition print.
The process of constructing a print so full of detail with a rich and defined palette is no easy feat, and Tony is a perfectionist. Painstakingly deconstructing a painting into separate elements that will then be laid over each other to render flawless imagery is all part of the journey to completion "I was initially attracted to screenprinting as it seemed accessible and it suited my love of clear crisp colour – its graphic qualities remain superior to this day."
Of his well-honed practice, Tony says "I still get excited when the first colour of a new print is transferred to paper under a smoothly guided and pressured squeegee blade. Multiple checks are made of all the elements involved in the process before the first colour is laid down and this is repeated for consequent colours."
Full of iconic imagery, this latest screenprint from Tony Ogle's studio is now available to view and purchase at the gallery.
For more information or to enquire about national or international couriers contact the gallery:
art@parnellgallery.co.nz
+64 9 377 3133