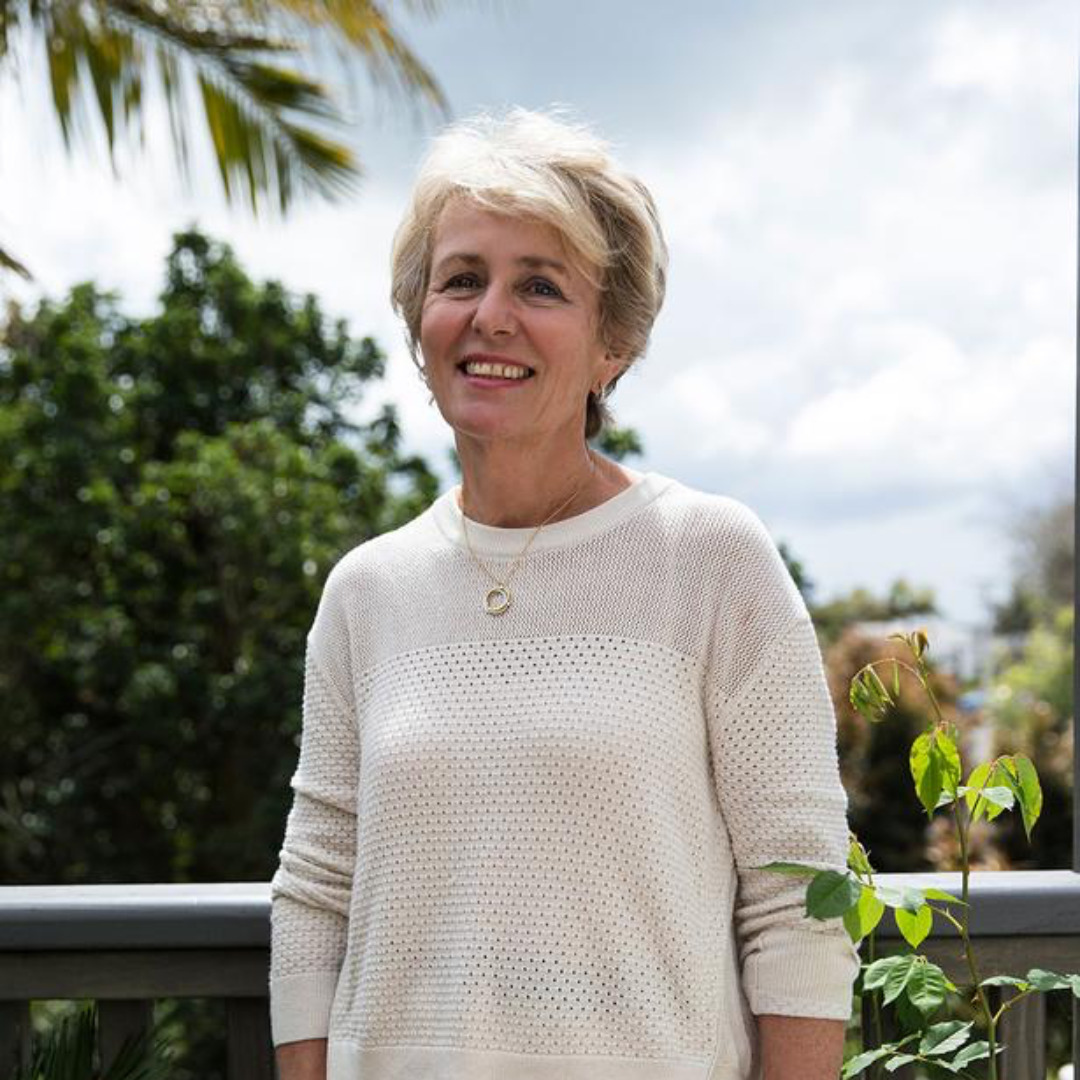 The below article, recently re-found by our gallery team, was initially published by Viva on Wednesday Oct. 7, 2015 about our gallery founder and co-Director, Sally.
View the original article here. 
—
As Sally Souness toasts to 40 years of her Parnell gallery, she reflects on some of her most prized possessions
Words by Jessica Beresford. Pictures by Guy Coombes.
At the age of 16, when most of us are still toying with what to do with our lives, Sally Souness had a clear vision for the future: to run her own art gallery. At 23, she opened The Hang Up Gallery in Parnell in 1976. "I grew up surrounded by art," she says. "It was really a natural progression."
Four decades later, and now called Parnell Gallery, the space has hosted emerging and established artists including Neil Driver, Matt Gaudie, Peter Hackett and Michelle Bellamy. "New Zealanders are very creative people but very few make it as a full time artist. I look for originality, excellent execution and the X Factor."
In her own home Souness finds contemporary New Zealand art to line the walls and shelves. "Good design is timeless and does not depend on fashion. Viewing great design gives me constant pleasure, whatever it may be."

MY FAVOURITE THINGS
1. Kaitoki Stream by Matt Gauldie
I have a number of paintings on my walls at home and they are all my favourites. It is very difficult to pick out one above another as many I have had for 30 years or so. They all become part of the web of who you are, your stages of life, and each has it own special story. Kaitoki Stream by Matt Gauldie is one of my favourite things for a few reasons. I have a special tie to Great Barrier and the painting is of my daughter Anna. Matt is a wonderful artist and captures the essence of a subject. Matt was staying at my place on Barrier for a few weeks painting for an upcoming exhibition. I remember walking up the Kaitoki Stream to gather tuatuas, and thought it would make a great painting. I did not know until the exhibition that he had rendered it to canvas.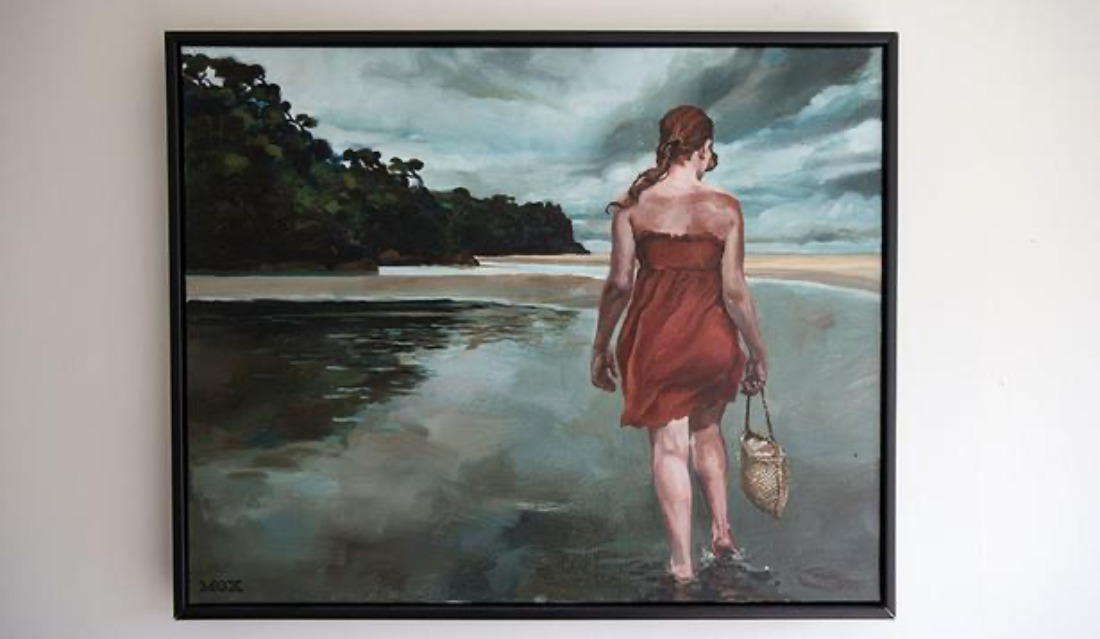 2. Silver cigarette box
This silver box sits at the front door and we all drop our keys into it. It is actually a cigarette box and belonged to my grandfather and then to my father who passed away when I was 10 years old. Although it is now not used for its intended purpose, it is a treasured possession and a daily reminder of my father.
3. Michelle Farrell's Celestial Dance
She has been the centrepiece on my dining room table for a number of years now. She seems to give off the emotions of joy and freedom while reaching simultaneously for the sky and the earth. She says to me "everything is attainable''. My grandson is drawn to this bronze as well and loves to gently rock her back and forth on the pivot of the skirt. Can he, at nearly two, feel the beauty in her as well?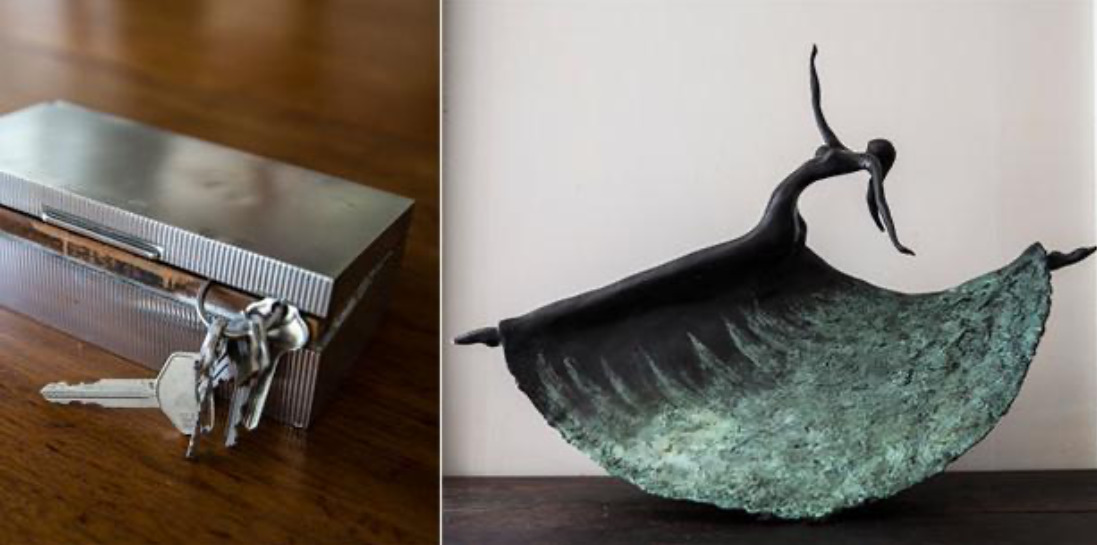 Silver cigarette box; Michelle Farrell's Celestial Dance. Pictures / Guy Coombes.
4. Nomad sculpture
My mother sculpted this. It takes me back to my childhood. She had a studio at home and when we returned from school she would often be working away with her chisels and pieces of native timber creating her sculptures. Nomad was done in 1970 and is made of puriri, a tree I am particularly fond of. It symbolised "striving forward" for her, and nurture to me.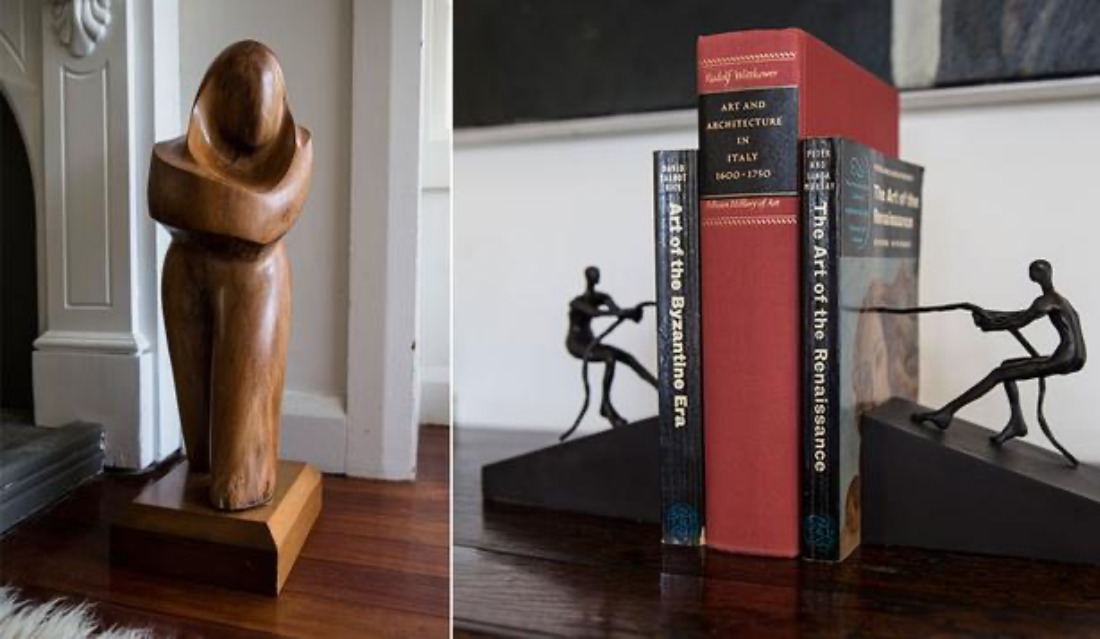 5. Well Balanced bookends by Vicky Savage
I love my art books, which I have been collecting since university days, so Well Balanced is the perfect way to show off one or two of them. I went to school with the artist Vicky Savage, we did our OE together, and my gallery has represented her for over 25 years. So, of course, these beautifully proportioned bronze bookends are special to me for a number of reasons.