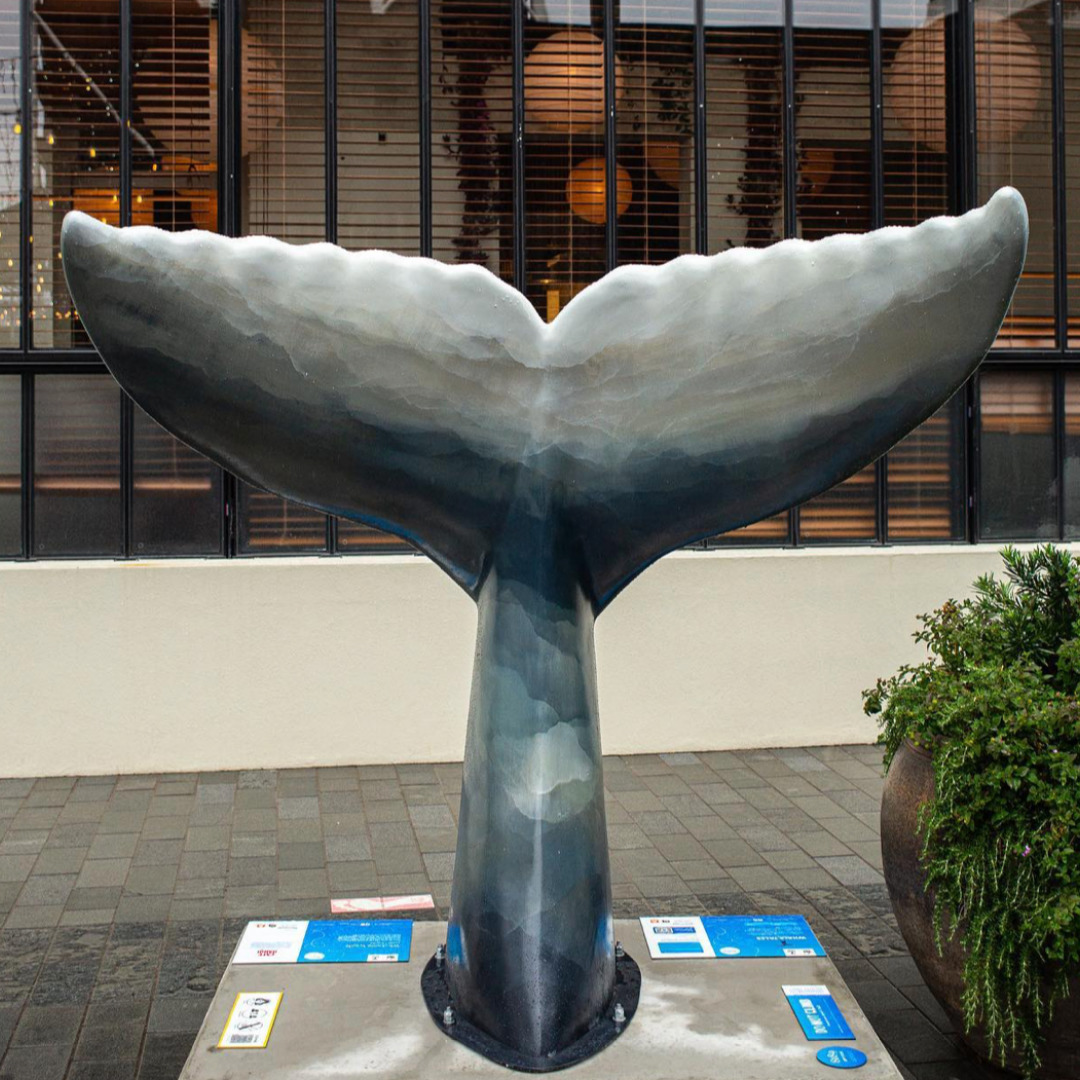 Presented by WWF – New Zealand, Whale Tales is an immersive art trail taking place across Auckland's city centre from January 24 to April 18. The 80 'Big Broos' (large Tail sculptures) and 80 'Pēpi' (mini Tail sculptures) designed by artists from all disciplines, as well as children, are currently on display throughout streets, parks, and public spaces of central Auckland. 
Parnell Gallery artist Greer Clayton has taken part with 'Whakaora', meaning to save and restore. Just as her painted landscapes represent a connection to a sense of a place, Greer's whale seeks to connect to its oceanic environment – ocean to sky. Textured paint echoes the moody underwater depths and merges with light-filtered hues as we near the surface while a metallic shimmer on the tip of the tail is inspired by a kiss from the golden sun and sparkling waters.  
See below for full interview with Greer with Britomart.org, or view it here.
————–
An Auckland-based artist originally hailing from the depths of the South Island, Greer Clayton has a signature dreamy, watercolour aesthetic that's been translated into 3D form for a Britomart-based artwork. It's part of WWF's 'Whale Tales' art trail – you might have read about or seen artist Talia Pua's tail in the Atrium on Takutai – a family-friendly outdoor art adventure fundraising to help protect the endangered Bryde's Whale, a regular visitor to the Hauraki Gulf.
If you're visiting The Hotel Britomart, Cafe Hanoi, Ghost St or Mr Morris, you can't miss Greer's artwork on Galway St. We talked to her about the inspiration behind her work, and why conservation is close to her heart.
Britomart: How did you come to be involved with the Whale Tales art trail?
Greer Clayton: Nearly this time two years ago, I was invited to attend the Whale Tales launch evening at the Auckland Art Gallery as I'd previously been involved in another public art trail, The Big Hoot [which also appeared at Britomart]. I was very excited to do a submission for this particular project for its relevance around marine conservation in Hauraki. The idea of seeing lots of beautiful bright sculpture tails dotted around Auckland sounded amazing – something we could all easily enjoy, that's outdoors and would encourage us to explore our city and also fundraise for ocean protection.
What was the approach that you took with your Tail – the tale you wanted to tell?
Using Resene paints, I adopted an ombre effect where the base starts deep and darker, graduating to a lighter palette. The artwork is named 'Whakaora', meaning to save and restore. My whale seeks to connect to its environment while having the feel of one of my painted landscapes… ocean to sky, using texture in the paint to echo the murky underwater merging to the surface with a metallic shimmer on the flukes inspired by the golden sun and sparkling ocean water. A new day in Hauraki.
You do quite a lot of work with conservation organisations – could you tell us a bit more about that and why it's important to you?
In 2019, I was lucky enough to be onboard a voyage to the Subantarctics, which headed back through Fiordland, where I had my first taste of the magnificent Dusky Sound. Through the Department of Conservation I learnt of the incredible work that Pure Salt and the Flightless team were undertaking in eradicating pests on the islands, and how artists had been involved. To have the opportunity to visit and contribute is a huge privilege, especially as the area has had such an impact and influence on my work already. I, too, fell under its magical spell and hope my paintings can give the viewer the 'feel' and 'mood' of this stunning part of New Zealand and encourage them to be part of it in some way.
Both trips were transformative for my practice but also gave me a unique opportunity to give back to these organisations doing such incredible work. For me, it's not just about doing the artwork, it's about contributing to the environment that inspired it.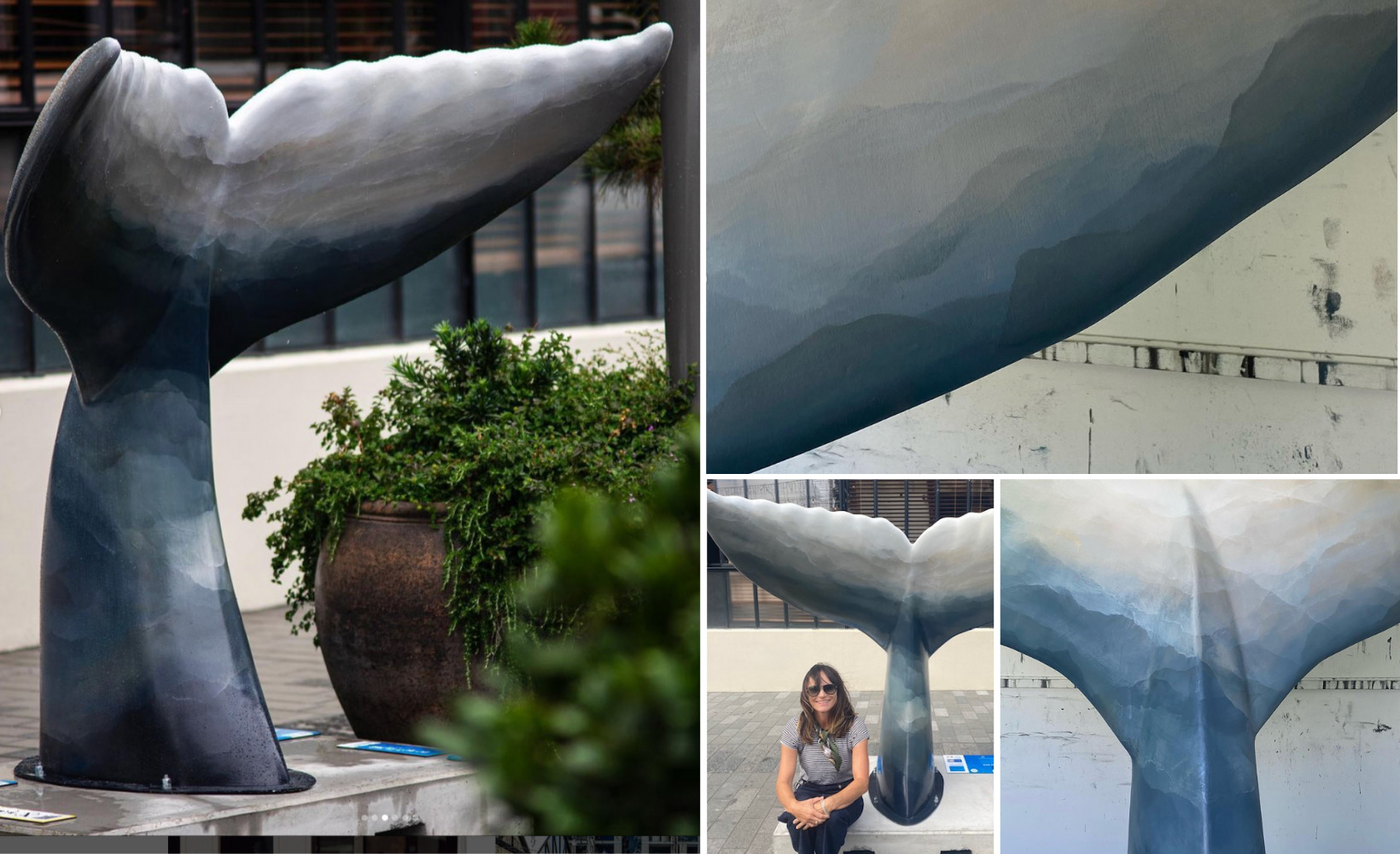 There seems to be a strong connection to the ocean or water in a lot of your works – where does that come from?
I've always been an abstract landscape artist and drawn to the lakes and oceans and particularly the horizon, which is becoming more and more relevant in my work… a trademark if you like. It's hard to say where it comes from, but what I see and what resonates then seems to transfer onto the canvas back in the studio… it could be an incredible sunset or moody storm where the light is incredible. I'm always gazing out, looking!
Did you know much about Bryde's whales before the Whale Tales project? What's something interesting you've learned about them?
Since my trips into Fiordland and the Subantarctics, I've been obsessed with humpback whale sightings. I'm in awe of these enormous majestic creatures but until hearing about the project two years ago, I have to confess I didn't know of the Bryde's Whales or their endangerment. WWF is addressing issues such as over-fishing, land activities, climate change and plastic pollution among others that is unfortunately contributing to their decline. What I didn't know was that they prefer warmer waters and call the Hauraki Gulf their home, so hopefully shedding some light on this will have an impact and educate others.
Have you visited your Tail since it was installed at Britomart?
Yes… and I have to thank Krishna [Botica] and the Cafe Hanoi team for sponsoring my whale. I am so chuffed with the Britomart location, not only because it's close to the very waters we are talking about, but it's also a place I frequent, so I feel very privileged to be here!
Greer Clayton's Whale Tail is on display in Britomart as part of WWF's Whale Tales Art Trail from 20 January 2022 until 18 April 2022. Find out more about the trail at this link.
Main images from @britomart and studio images from the artist.