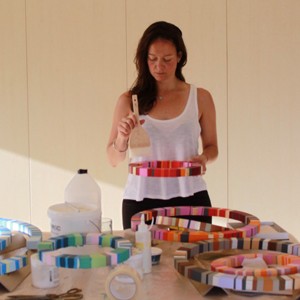 Annie Smits Sandano's latest body of work sees colourful circular hoops form an engaging narrative with a bold palette and dynamic composition. Stand-alone or part of a group, these works are versatile and lend themselves well to a greater interior design plan. We recently had a chat to Annie to get the scoop on the hoop.
Annie is well known for her woodblock prints, however in 2013 the artist extended her printmaking practice into painting, employing acrylics to form bold graphic shapes and forms across the picture plane. Informed by her woodblock aesthetic, the original paintings hold a clear sharp line and a sequencing of colour the eye intuitively follows.
Of her decision to create the circular artworks in the South Sea Orbit hoop series, Annie says "In 2017 I decided I wanted to push the painting part of my practice further in its course, so instead of adjusting scale I began to pull apart the foundation of the painting itself. I wanted to work with a less traditional picture plane, exploring abstraction within a real physical space".
Conceived and developed while in London, Annie completed these works upon returning to New Zealand. A continuation of the incredibly well received South Seas Orbit series, these latest hoops to come out of her studio expand on her exploration into colour harmonies balanced with metallic detail. Here, Annie's clearly defined palette reflects the colours found in specific locations around New Zealand, with some surprising results. Working from photographs, her eye picks out detail in colour we wouldn't normally expect to see from our familiar landscapes.
Annie's following statement gives us insight into the themes at play in the South Sea Orbit hoop series. "In these works I am interested in commemorating flora and fauna icons and locations of relevance to New Zealand. The orbit or circular shape, which is a constant in my work, has more specific connotations in this new collection. Titles from each hoop vary between reference to a specific coordinate to a place of relevance in New Zealand or flora and fauna which make up the native landscape. Contextualising my practice within the current dialogues involving environment continues to be an important reference point".
While some works in the series are a nod to New Zealand's history of leadership in maintaining standards of environmental preservation, others celebrate our national identity in regards to the regulation and sustainable use of our natural resources or they reference the endemic resource itself.
Despite where she may travel to, it's clear Annie's heart remains in New Zealand and that she keeps a keen eye on current issues. "It has been amazing to be home, to work in a familiar setting after a long stint away. I often need to leave the familiar to refresh my perspective on specific themes, and narratives clarify themselves from the contrast and juxtaposition of unfamiliar environments."
TO VIEW AVAILABLE HOOPS CLICK HERE >>

Ceramic vessel pictured is by Mark Mitchell