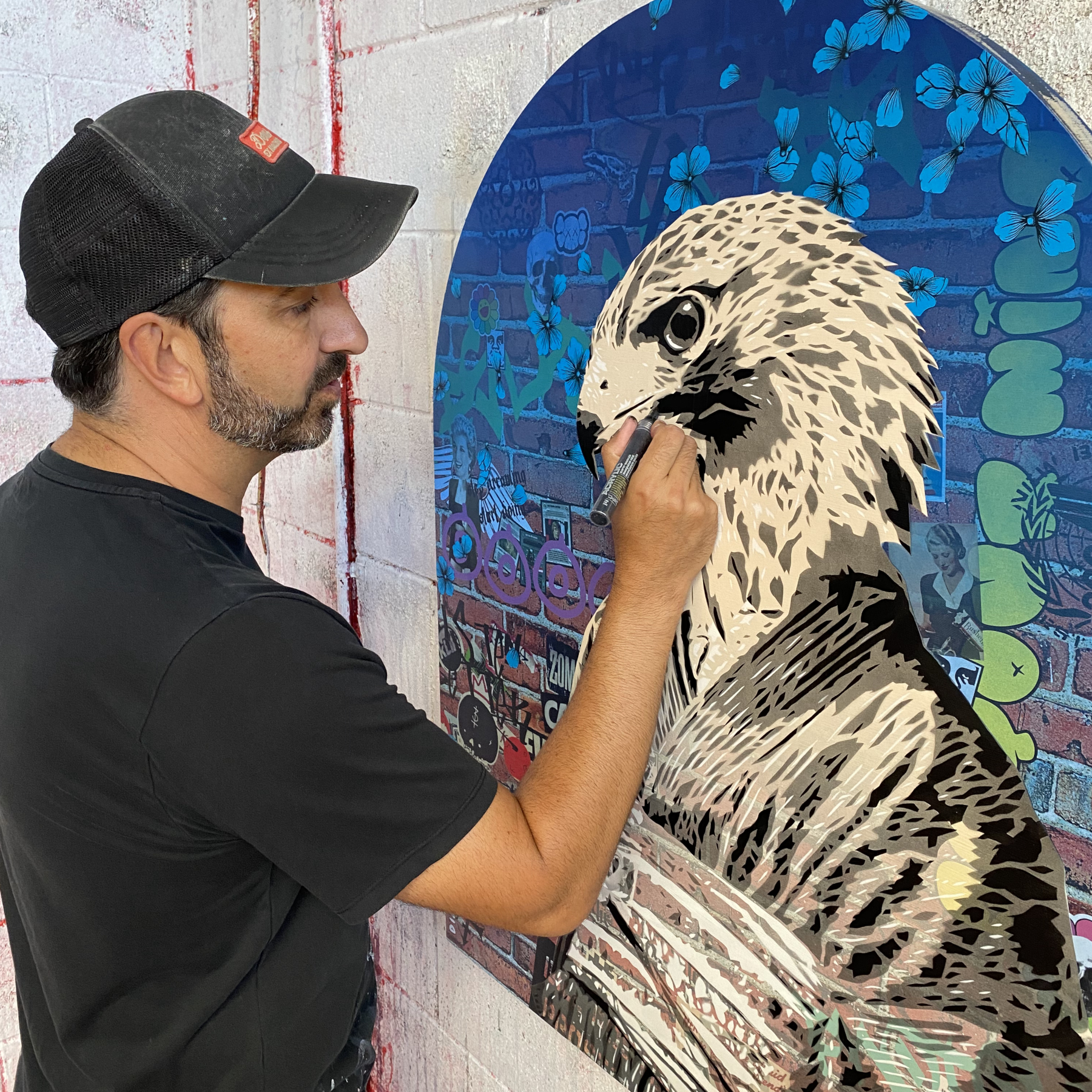 Vertical Gallery will  present 'Hybrid 2.0', the debut USA solo show from Brad Novak.
'Hybrid 2.0' runs June 11 – July 3 at Vertical Project Space (2006 W. Chicago Ave. #1R).
—
Brad Novak (aka New Blood Pop) was born and currently lives in Auckland, New Zealand. His artistic 'self' took years to materialize via a creative journey that is both unusual and uncommon. With his youth spent diverted towards academia and sports, Novak went on to become a medical doctor specialising in Public Health. However, a move to London in the early 2000s brought about a crucial expansion in life experience and the eventual 'lightning-strike-type' event, which unlocked his desire to create.
"I'm happy, but slightly embarrassed, to admit that before living in the UK I was completely naïve, and thought art had to be realism; I thought if you can't recreate and paint a photograph, it's not real art. Two hours in the Tate Modern Art Gallery and my life changed forever. It was like a lightning strike, it unlocked something in me. I realised that art could be an idea and not just a pretty picture. From that point on I had no choice but to create."
Passionate study of the genesis of Pop art, combined with respect for the gritty street art aesthetic, resulted in the development of Novak's personal urban Pop art style. Layering is important, with the use of iconography reflecting what he loves, and is influenced or challenged by.
'Hybrid 2.0' is Novak's first solo show held in the USA. It features 12 shield/arch shaped works in which he explores 'identity' through charismatic animals fusing with humans to create engaging hybrid figures. Many of the central subjects are birds, which have a special place in both the history and modern-day life of Aotearoa, New Zealand. And the warrior aspect of the pieces reflects the fight that we all must undertake to break our own self-limiting beliefs. These works are a metaphor, mirroring Novak's career and life journey.
"I believe there's this flawed human tendency for us to label (and thereby limit) not only ourselves but also others. I'm rejecting this through combining both visual art and medical careers. The primary question being, how do we honour our authentic inner needs? In the end, the urge to create was just too strong and fulfilling. Over the last few years art has started to take over."
Novak considers himself a true 'hybrid' – geek first, artist second, and (part-time) doctor third. Begun in 2009, this series rose out of an attempt to be defined by more than his first career. Through uncanny juxtaposition, he wants to convey the complexity of our identities. Are we just one 'thing'? A Mother, a father, an accountant, a businesswoman? Defined by something that we do? Why do we put others (and ourselves) in restrictive little boxes?
"I am grateful for this opportunity to challenge stereotypes. Learning about the 'golden handcuff' phenomenon, and sunk-cost bias, helped me take risks career-wise and accept who I am. Both my artwork and practice reflect this…"
Novak currently shows internationally with galleries in the USA, UK, and NZ
—
Click here to view past and present works by Brad Novak