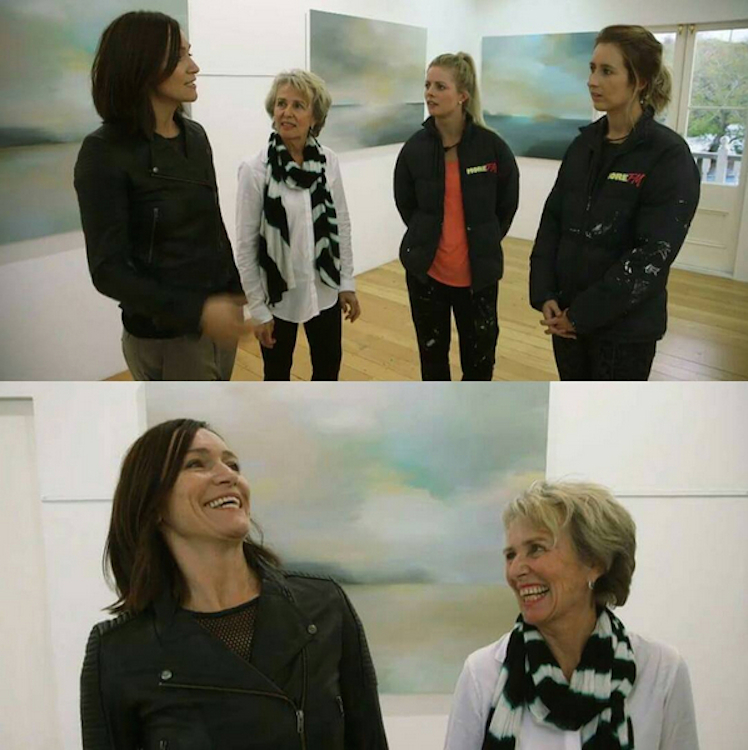 Parnell Gallery and Auckland artist Greer Clayton had the pleasure of being a part of The Block NZ's 2016 season.
In Episode 26 teams competed in the Your Home and Garden styling design challenge. Teams were randomly assigned a room to style around a piece of artwork. Sam and Emmett were lucky enough to have a Greer Clayton original painting "Seize the Day" in their bedroom.
Greer Clayton gave a talk in March on White Night on "Art in the Home" – the emphasis of the talk was to challenge everyone to "START WITH ART". Over a lifetime curtains and cushions change, but a piece of art will be a permanent part of your interior. The Your Home and Garden Block challenge highlights Greer's 'Start with Art' focus, and reiterates the importance of starting with an original artwork and styling your interiors and rooms from there. Watch the talk here.
The winners of the challenge, Emma and Courtney, were given the best prize yet – their room on the cover of Your Home and Garden, and a commissioned painting by Greer Clayton. Emma and Courtney won the challenge and came into the Parnell Gallery for a consultation with Greer and Gallery Director Sally Souness.
The girls spoke about the colors that appealed and aspects of various pieces, and Greer has painted a commission just for their house and to the size and style the girls were most interested in. The piece will be used in an upcoming room reveal.
Greer and Gallery Registrar Rachel Shanks delivered the painting to the Block site, giving the girls a well needed boost after weeks on site, and the girls were thrilled with the painting – you will see it feature in their house Number 3 in the coming weeks.
It was a pleasure for us to have Emma, Courtney and The Block NZ crew at the gallery, and exciting to be a part of the show.
Watch the footage here
Enquire about a commission here