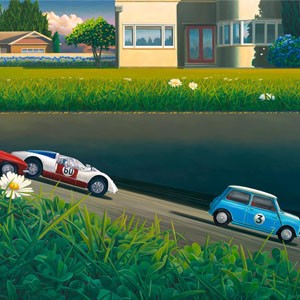 Exhibition: 21 November – 5 December 2017
Preview: Tuesday 21st Nov 5:30pm
"These paintings are short stories from my childhood, old forts, fast cars, slow boats, robots, rockets and epic adventures, lawns that seemed to take forever to mow and summers that would never end." – Ross Jones
New Zealand artist Ross Jones is known for his stunning paintings full of lively colour, precise brushstrokes and crystal clear detail. The paintings evoke a sense of nostalgia and childhood innocence; viewers are invited to engage with and contribute to the artist's playful narratives.
These oil on linen paintings have a heightened sense of reality, not unlike a child's imagination. A low perspective gives Jones' boyhood toys a lifelike quality, puffy Cumulonimbus clouds expand across the horizon, and unpopulated landscapes evoke the peaceful quality that comes with lazy summer afternoons. Meanwhile, clean lines give way to precision of form: bright skies are full of saturated colour, swimming pools glint and shimmer in the sun's rays, and each blade of grass, meticulously painted, holds immense texture, shadow and light.
The detail in each work is a reflection of Jones' deft skill. Through his mastery of the oil medium, Jones is able to recall childhood summers with nostalgia and intimacy. Each fine brushstroke is handled with delicacy and care, and between each stroke's juxtaposition of colour, life is breathed into the canvas.